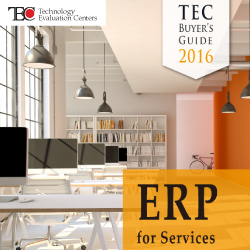 "This guide provides services organizations with the information they need to begin making an informed choice among the ERP solutions that are currently available." – Ted Rohm, TEC Senior ERP Analyst
Montreal, Quebec (PRWEB) April 01, 2016
TEC is pleased to announce the publication of its latest software buyer's guide, the 2016 ERP for Services Buyer's Guide. Written by TEC senior ERP analyst Ted Rohm, this guide provides the latest information on ERP for Services solutions from the perspective of the buyer.
The 2016 ERP for Services Buyer's Guide begins by breaking down what defines service organizations, and goes on to examine specific services industry challenges, according to a recent TEC market survey, and rank the most popular ERP-related initiatives for the year. It also compares integrated vs. best-of-breed solutions and takes a close look at ERP for services software capabilities.
Additionally, the guide explores the major technology trends impacting ERP for services solutions, including social, mobile, and cloud, as well as one of the latest developments driving this space—cognitive computing. Cognitive capabilities are finally moving out of the labs and making ERP systems more powerful by incorporating, for example, machine learning, speech recognition, and computer vision.
Rounding out the buyer's guide are at-a-glance functionality comparison charts, vendor profiles, a comprehensive ERP for services vendor directory, and case studies from leading solution providers such as IFS, Microsoft, NetSuite, Oracle, and Unit4.
Says guide author Rohm, "While services industries make up a large and growing portion of the economy, solutions that target the special needs of services organizations are not as numerous as those targeting some other segments of the economy. This guide provides readers with the information they need to begin making an informed choice among the solutions that are currently available."
The TEC 2016 ERP for Services Buyer's Guide is now available for free download.
For more information on TEC's software evaluation and selection services, contact +1 514-954-3665, ext. 404, or contact our Selection Services department.
About Technology Evaluation Centers (TEC)
Technology Evaluation Centers (TEC) is the world's leading provider of software selection resources, services, and research materials, helping organizations evaluate and select the best enterprise software for their needs. With its advanced decision-making process and software selection experts, TEC reduces the time, cost, and risk associated with enterprise software selection.
Over 3.5 million subscribers leverage TEC's extensive research and detailed information on more than 1,000 leading software solutions across all major application areas. TEC is recognized as an industry-leading software selection advisory firm offering resources and services both online and onsite. For more information, please visit http://www.technologyevaluation.com.