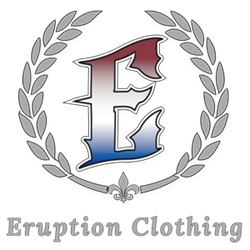 America Strong
Cheyenne, WY (PRWEB) October 06, 2017
Eruption Inc., a casual clothing company providing veteran and military t-shirts, has announced partnerships with the Army & Air Force Exchange Service (AAFES) and GOVX. Eruption is dedicated to creating unique designs for t-shirts and other casual apparel, many with built-in safety features, such as reflective printing, to provide active military servicemen and women, first responders and government agency employees and their families with everyday casual apparel that champions an "America Strong" philosophy.
At the epicenter of Eruption lies the core principles of charity and patriotism. Helping military members, whether Active Duty, Reserve, Guard, First Responders or Veterans that have served the United States of America. Eruption is partnering with some outstanding non-profit organizations that support freedom and patriotism through donating a portion of sales to select 501(c)3 veterans charities.
Since 1895, the AAFES mission has been to support the men and women of the armed forces during military operations, humanitarian missions and other endeavors around the world. "WE GO WHERE YOU GO", epitomizes the AAFES mission, particularly when service members are stationed away from American shores.
AAFES provides Soldiers and Airmen with the services and merchandise they need to make their lives more comfortable, no matter stationed abroad or at home. AAFES also maintains services and support to family members and troops who have returned home from duty overseas.
Eruption also partnered with GovX to support veteran and first responder non-profit organizations by providing exclusive t-shirt designs that promote patriotism. GovX is the ultimate, privileged, e-commerce destination for active duty, reserve and retired members of the U.S. Armed Forces and related government agencies.
The Eruption mission focuses on creating a brighter tomorrow for the heroes of today and yesterday; through patriotic clothing and supports our heroes of past years through charitable programs with veterans support organizations. "We are a charitable patriotic company creating casual clothing for those who are proud to be American and who support our "America Strong" values. We give back to multiple non-profit organizations keeping America Strong." – John Legge, Eruption CEO.
Contribute and help support our men and women that keep America safe while defending our freedoms. Visit http://www.eruptioninc.com, find a wide selection of military t-shirts and know that every purchase you make helps save a life!
Together we are all "Proud To Be American!"
#AmericaStrong