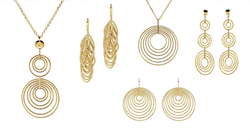 BOSTON (PRWEB) June 10, 2019
Springboard Retail, the leading cloud POS and Retail Management platform designed to help growing brands and retailers drive sales and margin, today announces its partnership with iconic jewelry brand Erwin Pearl.
Designing jewelry since 1952, Erwin Pearl—named after its revered designer— currently operates 10 stores across the United States, with more on the horizon. After 15 years on a slow, outdated point of sale system, Erwin Pearl began a comprehensive year-long search for a modern, sophisticated POS platform that would help them grow their multi-unit, multi-channel retail business. They needed a clean, efficient product at a competitive price that could provide their corporate leadership with the insights into customer buying patterns and product performance required to evolve the brand. Additionally, with six of its locations in major airports and plans to capitalize on this growing retail marketplace, they required a system that could support an extremely high volume of sales transactions and customer data.
"Springboard Retail checks off so many boxes on what a modern day POS platform should look as well as feel like and my team and I cannot be happier to be on board," said Stephen Cantwell, Director of Retail Stores at Erwin Pearl. "In our business of offering unique, one of a kind jewelry with limited availability, it is integral that our stores and home office react quickly to any customer needs in real time and Springboard provides us with that ability."
"We are thrilled to welcome Erwin Pearl to Springboard Retail," said Gordon Russell, President and CEO. "Providing the entire team—from the corporate suite to store managers—with a real-time holistic view of the business is essential to growth in today's competitive retail environment. And hat's off to our Customer Success Team for meeting the aggressive onboarding deadline: migrating all 10 locations' nearly two decades of data to their new unified Springboard system and getting them live within one month."
About Springboard Retail: Springboard Retail is a purpose-built, robust, cloud POS and end-to-end retail management platform designed by retailers. Built specifically for growing multi-store, multi-channel brands and retailers, the software is easy-to-use, easy to deploy, and delivers actionable real-time data across all channels and functions in the enterprise. Springboard Retail drives sales and margin with POS, mPOS, full inventory, order, promotions, tax, and customer management, unparalleled reporting, analytics and dashboards. Springboard Retail powers $2 billion annually in retail sales across the United States, Canada, and Mexico.
About Erwin Pearl: Erwin Pearl is an iconic American designer who has been making affordable fashion jewelry since 1952. He is recognized as one of the most respected authorities in the field. Honored with many prestigious international design awards, his most coveted is the Diamonds International Award which he won for five consecutive years. His unbridled passion, artistry and extraordinary technical skill can be seen in examples of his early work in 18k gold, diamonds, and fine gemstones. Applying this mastery of design, he has redefined fashion jewelry.