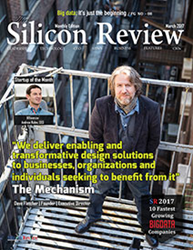 "Our mission is to help enterprises achieve data-driven success because organizations that view their data as a strategic asset and transformational tool are more productive, compliant and profitable."
MELVILLE, N.Y. (PRWEB) April 18, 2017
erwin Inc., the data management experts, has been named one of this year's 10 Fastest-Growing Big Data Companies by Silicon Review, a worldwide community for business and technology professionals.
In the magazine's March print and online versions, erwin CEO Adam Famularo explains how the company's customers and partners are benefiting from a renewed focus on the erwin product line, deeper investment in new innovation, and the broadening of its technology ecosystem since being launched as a stand-alone company in March 2016.
"erwin has been the most trusted name in data modeling for 30 years, and now we've expanded our solutions to provide the only unified data management platform that also includes enterprise architecture and business process modeling, as well as data governance and collaboration," explains Famularo. "Our mission is to help enterprises achieve data-driven success because organizations that view their data as a strategic asset and transformational tool are more productive, compliant and profitable."
Additional Information

About erwin, Inc.
erwin, Inc. makes the world's No. 1 data modeling software, trusted by more than 50,000 data professionals in 60+ countries. Combined with business process modeling, enterprise architecture, data governance and collaboration solutions, erwin provides the industry's only unified data management platform that uses any data from anywhere to drive operational improvements and growth. The erwin Data Management Platform is the foundation of mission-critical data programs in government agencies and leading financial institutions, retailers and healthcare companies around the world.
About Silicon Review
The Silicon Review is the world's most trusted online and print community for business and technology professionals. It encompasses nine technology and vertical communities: Software, IT Services, Cloud, Mobile, Big Data, Security, Telecommunications, Hot Start-ups and The Best Companies to work for. Each community leader is a proven subject matter expert who collaborates with industry gurus, technology managers, researchers, top technology journalists, consultants and industry analysts.