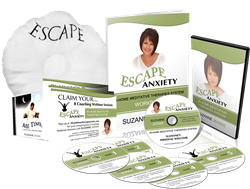 Anytime I can help someone become a believer in the restorative power of meditation, I know I have done a good day's work.
(PRWEB) April 07, 2015
It's estimated that forty million Americans suffer from anxiety disorders -- but that's just the tip of the iceberg. Millions more suffer in silence. Suzanne Jessee was one of them. Hospitalized at age thirty with severe depression, anxiety, and panic disorder, she was determined to overcome the mental paralysis and addictive behaviors that ruled her life. But for her, this was not enough. She went on to study, train, and work in the world's leading treatment centers in order to help people overcome their anxiety with methods that actually work. The product of her research and the stories of her experience can be found in her book, Escape Anxiety: 8 Steps to Freedom through Meditative Therapies - http://www.escapeanxiety.com/book/.
Now, Suzanne is releasing a special product that is meant for use at home, helping people while still allowing them to maintain the structure of their everyday lives. The 'Escape Anxiety In-Home Therapeutic System' is a revolutionary approach to anxiety recovery. With this system, customers will get to take part in Suzanne's innovative method of Neurogenesis Meditative Therapy™ (NMT), which combines proven therapeutic techniques such as Cognitive Behavioral Therapy with ancient mindfulness practices in order to treat anxiety.
Suzanne has found that there are eight vital steps that people must embrace in order to start on the path to wellness:
Step 1: Conquering Codependent Control Issues
Step 2: Dismantling Perfectionism
Step 3: Releasing Resentment and Forgiving Others
Step 4: Surrendering Shame and Resentment: Forgiving Yourself
Step 5: Defusing Catastrophic Thinking
Step 6: Mastering Self-Regulation
Step 7: Making Conscious Choices About Your Emotions
Step 8: Rewriting Your Internal Dialogue
Customers are guided each step of the way through instructional videos, audio therapy treatments, and workbook journal exercises. The Eight Step Escape Anxiety program provides holistic, natural techniques that help people master extreme stress and depression in order to escape their destructive consequences.
There are several different packages that you can purchase, all with varying tools for anxiety relief, and these are all detailed on the website. Suzanne makes this In-Home Therapeutic System accessible to everyone by providing a digital version that can immediately be downloaded for direct access, as well as varying payment plans. For those who might be skeptical, Suzanne offers a fourteen day free trial, just to make sure everyone feels comfortable with the system they are getting. She understands what it is like to suffer anxiety disorder and wants to provide the best possible solution to everyone who needs it.
The Escape Anxiety In-Home Therapeutic System is available at http://www.escapeanxiety.com/products/.
Suzanne Jessee
Suzanne Jessee holds a Master's Degree in therapy and is the creator of the ESCAPE Anxiety in-home therapeutic program. She has worked and trained in the world's leading hospitals and treatment centers including the Betty Ford Center, Brighton Hospital, Foundations Recovery Network and Dawn Farms, helping many people find ways to escape the debilitating effects of anxiety and reclaim their lives.