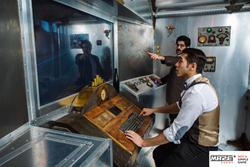 Be prepared to use your brain!
Los Angeles, California (PRWEB) January 09, 2017
Maze Rooms Los Angeles is thrilled to unveil its latest heart-pounding escape room game, One-Way Ticket, that is located at a brand-new venue near Hollywood, California. If one's New Year's resolution is to improve critical-thinking and problem-solving skills while having a ton of fun with family and friends, then it might be time to purchase a One-Way Ticket at Maze Rooms Los Angeles.
Imagine that a group of friends has planned a trip on a vintage, luxury train line. They look forward to the railway tour which includes beautiful scenery, comfortable accommodations and delectable dining. However, their trip of a lifetime turns perilous when they find out that their train has been booby-trapped with a bomb. While the train speeds steadily to its destination, the occupants realize why they were issued one-way tickets for their dream vacation. If they cannot escape from the train in time, it will be their final destination. Does the group have what it takes to escape with their lives from the locked train? That depends on the group.
Maze Rooms Los Angeles is increasingly known for its original escape room themes, fantastic special effects and thought-provoking puzzles, and their latest production, One Way Ticket, does not disappoint. The live escape game in Los Angeles features realistic props, imaginative problem-solving tools and a moderately difficult challenge that can transport a group of family, friends or colleagues into a whole new dimension for an hour of mental gymnastics. One Way Ticket is designed for two to six players to utilize teamwork and logic-based thinking to escape a deadly train car. Participants have only 60 minutes to identify issues and use clues to make their escape. Outside resources such as smart phones and tablets are prohibited, and teams rely solely on their collective wits and the game-specific tools that are provided to them by the Maze Rooms Los Angeles quest operators. One Way Ticket is not for the faint of heart, and participants must be at least 14 years old to play.
One Way Ticket is one of three escape rooms that are slated to share Maze Rooms Los Angeles' new Highland Avenue location. The new puzzle room in Los Angeles, which is located near well-known Hollywood tourist attractions and eateries, promises to be a big hit with locals as well as area visitors. Other Highland Avenue escape rooms besides One Way Ticket include Pharaoh's Tomb and a soon-to-be released theme that hints at more adrenaline-inducing fun. A recent gamer at Maze Rooms Los Angeles, said that he and his friends had a great experience there and that prospective players should "be prepared to use your brain!"
About Maze Rooms Los Angeles
Natalie Lapidus and Ruslan Balashov recently founded Maze Rooms Los Angeles based upon the interactive entertainment phenomenon that has captivated European and Asian gaming audiences for years now. The husband and wife team creates live escape room destinations that stimulate cognitive skills and bring family, friends and co-workers together for memorable entertainment experiences.