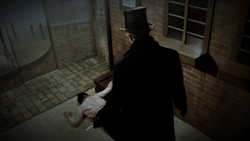 For every complex problem there is an answer that is clear, simple, and wrong. - H.L. Mencken
Los Angeles, CA (PRWEB) March 14, 2017
Across the globe, escape rooms have taken over the social experiences of people of all ages. These role play experiences give players the chance to dive into another world and make the experience their own. What's more fun than having the chance to unravel one of the world's most infamous cases?
Maze Rooms Los Angeles has incorporated historically accurate events into their puzzles. Jack the Ripper is an escape room that takes players back to the year 1888. Jack the Ripper has just gruesomely murdered his fifth victim, and there is a team of new detectives on the case.
The players will need to work together to solve puzzles that correspond to the historically accurate events, but they will only have one hour to bring the psychopathic killer to justice. Each team will consist of two to six players who need to follow the clues to locate the madman who has been terrorizing the East end of London.
Since this escape room in Los Angeles is a bit more adult themed, it is recommended that all players are at least 14 years of age. If there is a child under the age of 16, an adult in the party will have to give consent for them to participate.
If the group of players fails to solve all of the clues and find this madman, then the doors to the escape room will not open, giving the team of players the chance to try the challenge again or accept the failure, leaving the case an unsolved mystery forever.
Cameras and microphones are located around each escape room so that the team at Maze Rooms Los Angeles can help players who are having difficulties linking the clues needed to capture Jack the Ripper before he kills again.
About Maze Rooms Los Angeles
Escape rooms in Los Angeles are abundant, so Maze Rooms Los Angeles incorporates exciting themes into their escape rooms. These rooms are not just about solving puzzles; they give players a much more interactive experience that will be unforgettable.
Contact Information:
Maze Rooms
4365 Sepulveda Blvd
Culver City, CA 90230
310-595-2881
contact(at)mazerooms(dot)com