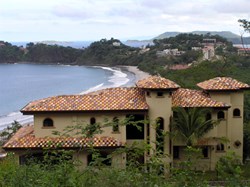 Our low season specials and last-minute offers on Costa Rica vacation rentals offer terrific savings.
Manuel Antonio, Costa Rica (PRWEB) September 24, 2013
Now is the time to take advantage of Costa Rica's last-minute travel deals, says Escape Villas spokesperson Sara Hopkins. Boasting an extensive portfolio of beach vacation rentals in Costa Rica's most popular tourist destinations, Escape Villas is excited to announce their low season specials, which apply to several of their exclusive listings in the Manuel Antonio, Playa Flamingo and Dominical areas. "Whether you're in search of affordable accommodations for a family holiday or you're planning a surprise romantic escape for that special someone, our last-minute low season discounts are an easy way to save big on your next Costa Rica vacation," explains Hopkins.
Escape Villas has been offering luxury jungle and ocean view villas throughout Costa Rica for nearly 14 years, and has built its sterling reputation on excellent customer service, which includes professional concierge assistance for everything from in-country transportation logistics to eco tours and private catering. Hopkins says the company is offering guests anywhere from 25 to 50 percent off its normal rental rates on select properties from now until mid-November, with few restrictions applied. The amount of discount will depend on the travel dates, minimum stay, number of people in the group, and the Costa Rica villa being requested. The bulk of these specials have a minimum 3-night stay, but this should be no problem for most travelers who typically plan at least 7 days to enjoy the abundant activities and attractions of this eco paradise.
September marks the peak of Costa Rica's rainy season which is locally known as the "green season" owing to the country's verdant, tropical landscapes during this time of year. Hopkins says there are a lot of misconceptions about traveling in Costa Rica during the low tourism period, adding that it rarely, if ever, rains all day long. "For seasoned travelers who are in-the-know, September - November are some of the best months for visiting Costa Rica. On top of huge discounts for beach rentals, you get to enjoy smaller crowds, practically empty beaches and a beautiful countryside that is so wonderfully green and lush," Hopkins said.
Hopkins encourages anyone who is thinking about a last-minute beach vacation to contact Escape Villas for further information on their Costa Rica vacation rental specials. These markdowns can easily save visitors hundreds of dollars if they book travel within the next 21 days. Just one example of their upscale properties is a luxurious ocean view beach house in the vibrant town of Playa Flamingo. This lavish vacation rental is 7,400 square feet of tropical elegance and overlooks white sands and the Pacific's Catalina Islands. Perfect for a family vacation, it sleeps 11 people comfortably and features an ocean view Jacuzzi plus a large, flat-screen TV, DVD player, stereo system, games and an exquisite indoor waterfall.
As part of its budget-friendly low season specials, Escape Villas is offering 7 nights in this Flamingo rental through November 22, 2013 for just $2,830 for any available dates within 60 days of the time of booking. Hopkins adds that with a fully-equipped kitchen, wireless Internet and entertainment area, this Playa Flamingo rental home is perfect for groups with small children and teenagers.
"In light of today's economy, we understand the importance of stretching those hard-earned vacation dollars, and Escape Villas offers cost-effective ways to take full advantage of off-peak travel in Costa Rica," states Hopkins. "We see a lot of repeat clients who come down for a last-minute trip and are impressed with our level of commitment to customer service and first-class selection of ocean view rental homes." For more details on our last-minute vacation rental discounts and availability, please visit the Escape Villas website today.