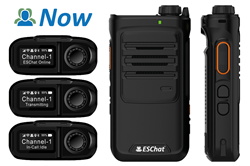 ESChat today announced "ESChat Now," a nationwide Walkie-Talkie service for U.S. based business customers.
SAN LUIS OBISPO, Calif. (PRWEB) February 26, 2019
ESChat today announced "ESChat Now," a nationwide Walkie-Talkie service for U.S. based business customers. "ESChat Now" includes bundled ESChat service and cellular data sufficient for 28 hours of Push-to-Talk time per month. "ESChat Now" is being offered for $29 per month on the Telo TE390 Walkie-Talkie device. "ESChat Now" customers can purchase the TE390 directly from ESChat for $228. Customers who sign a two-year service contract receive the TE390 for free.
ESChat is the leading provider of Broadband Push-to-Talk service, and "Now" is a natural extension of its PTT business. Used by hospitality, transportation and public safety professionals, ESChat boasts service availability over 99.999% for the past six consecutive years.
"ESChat Now" is fully compatible with all other ESChat clients, including iOS, Android and Windows PC. "ESChat Now" can also be integrated with LMR radios and dispatch console systems using ESChat's standard integration products.
The Telo TE390 Walkie-Talkie is a compact device with accessory options that include a belt clip and remote speaker/microphone. The TE390 has a bright two-line OLED display and uses ESChat's voice annunciation for heads-up operation. ESChat outbound calling features are limited to Group Calls, but TE390 users can receive private PTT calls.
For additional information on "ESChat Now," please visit eschat.com/now.
About ESChat:
ESChat (http://www.eschat.com) is the leading provider of carrier independent Secure Broadband Push to Talk (PTT). ESChat service includes AES-256 encrypted PTT voice and multimedia messaging. ESChat also provides live and historical (bread crumb) tracking and mapping. ESChat is a FirstNet Certified™ solution, offering Quality of Service, Priority and Preemption (QPP) to FirstNet subscribers. ESChat also supports Quality of Service (QoS) enhancements on the Verizon Wireless and AT&T commercial networks. Currently used by all branches of the U.S. Military, as well as federal, state and local public safety agencies, ESChat is able to operate over and across any wireless network, including all commercial carriers, private 3G/4G networks and WiFi. ESChat supports interoperability with all LMR radio networks, including P25 via the native Inter RF Subsystem Interface (ISSI) protocol and DMR via the native Inter Application Interface Specification (AIS) protocol.
For more information, please visit http://www.eschat.com.