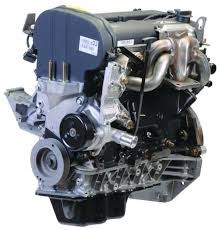 Mileage is important when researching used engines and can be the deciding factor for consumer purchases
Erie, Pennsylvania (PRWEB) August 27, 2013
The Ford Escort received one of the longest production runs through the 1980s. The revamped ZX2 series was one of the final vehicles produced for this brand in the early 2000s. The Got Engines company has now added the Escort ZX2 engine in 2.0 size for sale online at http://www.gotengines.com/blog/ford-engines/zetec-engine.
The 2.0 Zetec engine was developed as an upgrade to the 1.6 first introduced as a Zeta build in the 1980s. A majority of smaller Ford vehicles have used this 4-cylinder edition for fuel economy.
The termination of this engine brand from the existing lineup has caused some shortage reports on the secondary market.
"We support different families of engines in the 2.0 build and are now shipping the Zetec edition inside the U.S.," a seller for the Got Engines company said.
The 2.0 Zetec motors now in used condition are combined with a lower than typical selling price as an incentive for engine replacements.
The DOHC edition of the Zetec series was one of the final builds of this engine family. The Duratec series replaced the 2.0 and is currently still in production. High engine mileage can be one negative that buyers find when researching online for secondary market engines.
To combat the mileage problem, the Got Engines company now sources all of its motor inventory from suppliers that can guarantee specific mileage benchmarks before sale. This allows all company inventory to remain at a specific mileage interval to provide a better quality build for consumers.
"Mileage is important when researching used engines and can be the deciding factor for consumer purchases," the seller added.
The mileage measures are one additional bonus incentive now packaged with all engine sales by the GotEngines.com company. These are new policies that have been set into motion this year to provide engine alternatives to buyers.
About GotEngines.com
The GotEngines.com company leads the used engine market as an online seller partly due to its massive inventory of domestic and foreign engine types sold to the public. This company competes directly with auction companies for low pricing and warranty terms with each order. The GotEngines.com company inventory includes new and vintage motors that are frequently requested for project car builds or car restoration projects. The current used inventory marketed to buyers online is researched through the engine database on the company website.