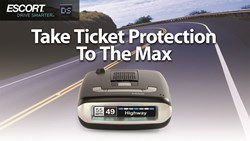 The new PASSPORT Max™ and new product announcements will be the key topics at the exclusive ESCORT SEMA Show press conference (Thursday, Nov 7, 11:30 AM, SEMA Media Center, Room N110).
Las Vegas, NV (PRWEB) November 05, 2013
ESCORT Inc. (ESCORTinc.com), designer and manufacturer of the world's only High Definition PASSPORT® Max™ radar and laser detector, saw the formal SEMA debut of its all-new record setting design. Using advanced military technology, PASSPORT Max™ delivers high definition performance with ultra-fast signal processing and unprecedented noise filtering.
"The best radar detector … ever." - Radar Roy
Just last quarter, ESCORT elevated the radar detector performance benchmark (again) with the release of the all-new High Definition PASSPORT Max™ radar and laser detector. 'Taking ticket protection to the max,' the new PASSPORT detector established unprecedented performance records for radar detection metrics. And in a very upbeat note for the firm, PASSPORT Max™ also achieved new 'bests' for product launch production numbers, booked pre-orders and direct-to-customer shipments processed (ESCORT show booth #11739, North Hall).
ESCORT, and sister division BELTRONICS (maker of STi stealth detectors exclusively designed for professional drivers), invites SEMA Show Attendees to visit their booth in the North Hall, #11739, as well as attend the ESCORT official SEMA Show Press Conference (Thursday, November 7) at 11:30 AM (Room N110).
Industry leader ESCORT strives to design products with their retail partners' input. Over the last few months ESCORT has done just that by releasing products that set new benchmarks for performance and sales, both of which are good news in the mobile CE category.
The recent release of the all-new PASSPORT Max™ High Definition radar detector has resulted in new performance benchmarks for radar detection. The great news for retail partners is that the PASSPORT Max™ is also setting new sales records.
The new PASSPORT Max™ connects with the ESCORT Live™ ticket protection app, a recent SEMA show 'best new product' winner. With ESCORT Live™ linked to PASSPORT Max™, the two state-of-the-art technologies provide unmatched ticket protection and driving awareness.
"Our steady stream of new innovations allows ESCORT to continue to lead the detector category," said John Larson, ESCORT President and CEO. "Now our new media sharing MediaFlair™ accessory and our new laser shifting technologies increase our reach in serving up the best-in-class benefits and support for our partners and their customers."
ESCORT Continues Radar Detector Innovation - Firm Helps Energize Retail Sales with Exciting New Consumer Products
Formally debuting at SEMA, ESCORT's completely redesigned laser defense technology, Laser ShifterPro™ is the category leader's most advanced laser defense system ever. Laser ShifterPro™ uses true laser diodes to maximize effectiveness against difficult-to-beat targeting laser guns. Developed with both current and future laser targeting guns in mind, Laser ShifterPro™ will be easily upgraded to defeat the new laser guns and technologies using ESCORT's exclusive online Shifter Tools™ update process.
The new Laser ShifterPro™ technology will be a standing component in the award-winning PASSPORT 9500ci™ complete custom installed ticket defense system. The industry's most esteemed custom installed detector system, the PASSPORT 9500ci™ is easy for dealers to sell and install.
For example, installation costs, a major concern for managed dealerships, are dramatically reduced with the 9500ci's 'quick connect' wiring harness and self-test diagnostics that communicate proper operation upon completion. And the 9500ci offers dealers the opportunity to provide their customers with a complete radar and laser defense system that is completely discreet – it can't be seen due to its integrated installation. With dual antenna and high-efficient LNA receiver, the industry's best long-range warning, patented TrueLock™ feature and GPS technology to eliminate false alerts, and, completely undetectable to scanning devices, the 9500ci is the stealthiest, best performing custom-installed detector in the world.
For the mobile media category, ESCORT's new MediaFlair™ sharing and streaming accessory brings a new way to listen, watch and share your media. MediaFlair™ is portable so it goes anywhere you go and it connects with other devices that you choose. Using WiFi®, MediaFlair™ streams personal content to smartphones or tablets. Load music, movies, photos and documents onto the included SD card for personal media on the go.
For more information about the new PASSPORT Max HD Detector and the new Laser Shifter Pro(TM), view ESCORT Inc on Youtube, visit ESCORTinc.com or call the company direct at 800.433.3487.
About ESCORT Inc.
ESCORT Inc. is the designer and manufacturer of the world's most awarded radar and laser detectors, the patented ESCORT Live™ real-time ticket protection network, PASSPORT Max HD radar detector, ESCORT MediaFlair™, ESCORT MobileTV™, Guardian Alert reverse obstacle detection systems, Entourage GPS-enabled navigation and tracking products, ESCORT QuickStart™ and other Drive Smarter products. ESCORT holds more than 85% of all active category patents and manufactures products under the ESCORT, PASSPORT, REDLINE, SOLO and BELTRONICS brands.
Editorial Contact:
Ron Gividen
513.870.8500
press(at)escortinc(dot)com