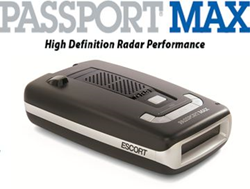 Key industry and media experts have said more than once that our PASSPORT Max™ digital detector is the best detector we have ever released…
Dallas, TX (PRWEB) April 28, 2014
ESCORT Inc. (ESCORTinc.com), designer of the award-winning PASSORT Max™ HD all-digital radar detector returns to the Texas Auto Writers Association (TAWA) 2014 Spring Auto Roundup event this week. ESCORT is showcasing its newly expanded PASSPORT Max™ Limited Edition Series radar detectors.
"Key industry and media experts have said more than once that our PASSPORT Max™ digital detector is the best detector we have ever released," said Ron Gividen, ESCORT PR Director. "Our new PASSPORT® Max™ Limited Edition models offer drivers unprecedented advanced driving information while also providing an exciting choice of custom case covers to better fit their individual preferences," he added.
The all-new Limited Edition PASSPORT® Max™ detectors build on previous major awards including: SEMA Show "Best New Product", Popular Mechanics "Editor's Choice Award" and January Car And Driver Magazine #1 Detector Ranking.
The Limited Edition models feature all-new custom case covers and color schemes with four options to choose from: Glossy Black, Brilliant Blue, Burled Wood and Carbon Fiber.
PASSPORT® Max™ uses advanced Digital Signal Processing to deliver record setting performance including: fastest response time; longest reception range; and best sensitivity for detecting never-before-seen low level signals.
For more information about the new PASSPORT® Max™ Limited Edition models, view ESCORT Inc on YouTube, call the company direct at 800.433.3487, or visit ESCORTinc.com.
About ESCORT Inc.
ESCORT Inc. is the designer and manufacturer of the world's most awarded radar and laser detectors, the patented ESCORT Live™ real-time ticket protection network, PASSPORT® Max™ HD radar detector and other Drive Smarter products. ESCORT holds more than 85% of all active category patents and manufactures products under the ESCORT, PASSPORT, REDLINE, SOLO, BELTRONICS and Pro Series brands.
Editorial Contact:
Ron Gividen
513.870.8500
press(at)escortinc(dot)com