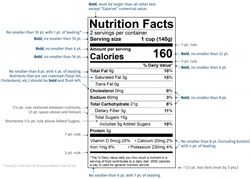 "The deadline for compliance is coming up in a few short months and in that time we are trying to provide as much information to our clients to help them stay on track for meeting the compliance requirements," said Craig Bennett, CEO, ESHA Research
SALEM, Ore. (PRWEB) July 08, 2019
ESHA Research, the industry leader in nutrition analysis and food labeling compliance solutions, will host a complimentary webinar on July 17, 2019, that will provide an overview of the key changes to the FDA's Nutrition Facts Labeling regulations.
"The deadline for compliance is coming up in a few short months," said Craig Bennett, CEO of ESHA. "We are trying to provide as much information to our clients to help them stay on track for meeting the compliance requirements. This webinar is one of the many options we offer to ensure that those needing to create Nutrition Facts labels understand the new regulations and how Genesis R&D can help in the label conversion process."
About the Webinar
The webinar will cover the key changes to the label formats and discuss the definition and calculation of Dietary Fiber, newly required nutrients such as Added Sugars and Potassium, and changes to the 2016 Daily Values. In addition, the webinar will cover the compliance features available in Genesis R&D such as the nutrient calculator and rounding rules options, that are designed specifically to make the transition easier.
To register, visit the ESHA website at https://www.esha.com/webinars/2016-nutrition-labeling-guidelines-review/. The webinar will also be recorded and available for on-demand viewing on the ESHA website at a later date.
About Genesis R&D
Genesis R&D Food Analysis and Labeling Software assists users in all aspects of food product development, including the virtual creation of food, automatic generation of camera-ready nutrition facts panels, and compliance with government regulations in the U.S., Canada, European Union, and Mexico.
About ESHA Research
ESHA Research, founded in 1981, offers a variety of nutritional-analysis and label-development solutions for nutrition education, diet awareness, and regulatory compliance. Our software programs and databases have been used all over the world, by food manufacturers, schools and universities, restaurants, healthcare facilities, and other industry institutions for nutrient analysis, labeling, product development, and more. In addition, ESHA Research offers software and compliance consulting and label-generation services.