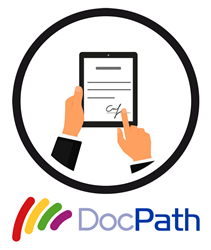 integrate with the most advanced, proven and widely used electronic signature platforms, such as DocuSign® and Adobe® Sign.
Suwanee, GA (PRWEB) October 10, 2017
DocPath, a multinational company specializing in the development of advanced document technology, has announced the launch of a new Document Output Management solution: DocPath ESI (Electronic Signature Integration).
DocPath ESI is an innovative electronic signature integration product, designed in response to the new business needs in document authorization. Today, electronic signature integration tools are not only supposed to provide the baseline features of standard electronic signature software, but they should also integrate with the most advanced, proven and widely used electronic signature platforms, such as DocuSign® and Adobe® Sign.
DocPath ESI core features include advanced integration with DocuSign® __Adobe® Sign compatibility will be added shortly– as well as with legacy corporate applications. Thus, users will be able to sign their documents with valid and legally binding e-signatures, as part of the workflows of their implemented document technology.
DocPath ESI also comes with a user-friendly interface that allows authorized users to visually configure the complete electronic signature integration workflow, including document review and allowed signing methods.
When it comes to the process of e-signing, DocPath ESI enables integration with DocuSign® via email or URL. As such, an end-user automatically receives an email for entering his or her electronic signature, or a DocuSign url, which the user can open in any browser, allowing him or her to easily sign the document. In addition, via the previously configured chain of approval, a document can only be authorized in a particular order of users, and user can be requested to enter multiple signatures in different positions of the same document.
With regard to the document format that can be signed, DocPath ESI supports any PDF document, as well as any other document formats compatible with DocuSign®. Moreover, the electronic signature integration solution is capable of processing multiple documents at the same time.
In conclusion, the DocPath ESI (Electronic Signature Integration) solution incorporates electronic signature processes into corporate workflows and, as such, enables any company to automate and streamline its workflows by creating integrated, fast and 100% digital document approval and review processes. In addition, the electronic signature system complies with legal regulations and drastically reduces overall corporate costs, as the signature process is automated and streamlined.
To learn more about the DocPath® ESITM (Electronic Signature Integration) software visit this page and for more information on the topic see this article "Securely Sign Documents with Digital Signature Integrated Document Technology".
About DocPath
DocPath is a leading business document software manufacturer that provides its world-wide customers the technology that allows them to complement their ERP and implement sophisticated Customer Communications Management and Document Output Management systems, as well as advanced document spooling software. Created in 1992, DocPath's Solutions are found in companies scattered across the globe. Its international clients include prestigious banks and first class corporations, which are aided by DocPath's Solutions as the complicated and critical tasks involving the design, generation and distribution of business and customer documents are significantly simplified. DocPath maintains a strong commitment to R&D&i, an area that receives a good amount of its revenue, and in which lies the key to the company's success.
For more information, visit: http://www.docpath.com.
Disclaimer: DocuSign is a registered trademark of DocuSign, Inc. Adobe and Adobe Sign are either registered trademarks or trademarks of Adobe Systems Incorporated in the United States and/or other countries. The content of this press release does not intend to suggest or imply partnership, sponsorship or endorsement by DocuSign nor Adobe. DocPath trademarks are the property of DocPath Corp. Other company, product and service names may be trademarks or service marks of others.