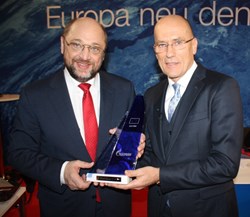 The European Parliament has been supporting the Esimit Europa project for more than a decade
Berlin (PRWEB) January 27, 2014
The Esimit Europa project started in 1995 from a visionary idea of Igor Simčič to provide a symbol of the blurring of European borders with a yacht that joins different nations onboard. The project grew from first connecting two bordering cities, then regions and then countries. The European dimension of the Esimit Europa project was sealed in 2002, when the yacht was granted the privilege to sail under the European flag with the official support of the European Parliament. In 2006, furthermore, the President of the European Commission, José Manuel Barroso, granted his patronage to the project, and was followed by the official support of many other distinguished European diplomats and businessmen.
In 2010 the Esimit Europa project reached a new level by acquiring one of the fastest and technologically most advanced yachts in the world, named Esimit Europa 2. Its crew is composed of highly skilled sailors, the Olympic Games medallists and multiple time winners of the America's Cup and Volvo Ocean Race sailing races, coming from ten different countries. Since its christening in June 2010 the Esimit Europa 2 yacht took line honours at all of its 28 attended races and set 6 course records.
Esimit Europa's diplomatic efforts are dedicated to promoting the idea of a united Europe and with the support of its endorsers it became a key player in establishing sports, diplomatic and business connections throughout Europe.
The meeting taking place in Berlin on Sunday, 26 January, was an opportunity to present past achievements and future plans of the project to one of its most important supporters – the President of the European Parliament. It is yet another recognition to this prosperous project which promotes values such as collaboration, synergy, responsibility and solidarity through its numerous activities.
At the occasion of the meeting, Martin Schulz, President of the European Parliament said: "The European Parliament has been supporting the Esimit Europa project for more than a decade. We have seen its victories not only at sea, but also in the diplomatic and business engagements. The Esimit Europa 2 yacht with its multinational team has successfully represented Europe at many of the world's most important sailing races. By that, they have also shared the important message of unity and cooperation among European nations. I would like to express my appreciation to Igor Simčič, founder of the Esimit Europa project, for his inspirational idea, its most successful realization and his dedication to our common mission."
Igor Simčič, founder of the Esimit Europa project added: "I would like to thank the European Parliament and its President for their ongoing support to our project. It is not only an important recognition of our efforts, but also responsibility for our future endeavours."
Contact:
Eldina Knez
+39 366 675 90 92
eldina(dot)knez(at)esimit(dot)com
http://www.esimit.com