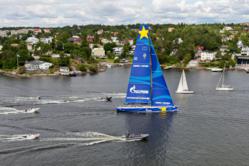 Esimit Europa 2 continues its winning run by taking line honours at ÅF Offshore Race
Stockholm, Sweden (PRWEB) July 02, 2013
After more than 40 hours of sailing at the 350 nautical mile long ÅF Offshore Race in Sweden, Esimit Sailing Team crossed the finish line first on 2nd July at 3:33 am and therefore secured their 22nd line honours. Skipper Jochen Schümann, who led the Esimit Sailing Team to its second success after breaking the monohull course record at the Welcome Race at Kieler Woche only one week before, was pleased with the performance of the yacht and its team at the ÅF Offshore Race. "It was an exciting race for me, one of the most enjoyable I ever attended. We have started with very light winds in Stockhlom, but kept the good pace throughout the archipelago. Unfortunately, despite adequate depth of water, as many other boats, we hit an underwater rock, which was not marked in the navigation maps. Despite the accident, which caused a sudden stop of yacht's movement, we haven't noticed any major damage and were able to continue racing towards the Gotland Island. Immediately after rounding it, the wind died down and we entered several dead calms. Fortunately, we picked up some good breeze for the last 120 nautical miles, pushed the yacht to its limits and secured line honours. I would like to congratulate our crew members for their performance, they have proved once again their true skills and professionalism and I am very much looking forward to the upcoming races in the United Kingdom."
Fleet of 248 boats, divided into 9 classes, embarked on 30th June at 11:00 am from Stockholm. European flagged maxi racer has started in the ORC A class with the rest of the fleet, including a 100-foot Swedish super maxi, TP52s and other yachts, multiple winners of most renowned races. Before the start, Igor Simčič, founder of the Esimit Europa project, met with mayor of Stockholm, Sten Nordin. In their discussion in occasion of opening of the race and mayor's visit of the Esimit Europa 2 yacht, Sten Nordin expressed his intention of visiting Italian city of Trieste for the Barcolana race. On this occasion Simčič presented also the initiative to organize a meeting of mayors of European cities. "It was my honour meeting Mr. Nordin and all the people in Sweden who came to visit our yacht. We are leaving Sweden with great joy in our hearts and I am satisfied with what we have shown there. We haven't done any single mistake during the race, therefore I would like to congratulate my skipper Jochen Schümann and the rest of the crew for the great performance. All the races in the Baltic Sea were very much different from those in the Mediterranean, but we have prepared ourselves in the best possible way," stated Igor Simčič.
After its performance in Sweden, the 30-meter canting keel beauty will attend Cowes Week and famous Rolex Fastnet Race in the UK before returning to the Mediterranean for 4 races in October – Bernetti Lombardini Cup, Barcolana, Rolex Middle Sea Race and Medot Sailing Trophy.
Esimit Europa 2 sails under the flag of the European Union, competes for the Slovenian Sailing Federation and Yacht Club de Monaco and promotes the sailing values of teamwork, solidarity, innovation and collaboration. Main sponsor is the global energy company Gazprom, while BMW is the official partner. The Esimit Europa project is under the patronage of the President of the European Commission, José Manuel Barroso, and is endorsed by Martin Schulz, the President of the European Parliament, and Sergey Lavrov, Foreign Minister of the Russian Federation.
Contact:
Gorazd Mauri
+39 366 675 90 92
gorazd.mauri(at)esimit(dot)com