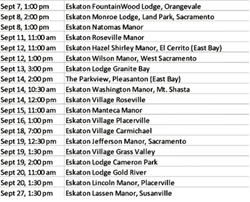 Falling can be devastating, but there are ways to help prevent these accidents, and we want to share those tips with our community.
Sacramento, CA (PRWEB) September 01, 2017
Eskaton, a nonprofit serving seniors throughout Northern California, will host fall prevention workshops in September at 19 of its communities. These events will coincide with the National Council on Aging's 10th annual Falls Prevention Awareness Day (FPAD), which will be observed on September 22 -- the first day of fall.
"We are committed to healthy aging for everyone," said Sheri Peifer, chief strategy officer for Eskaton. "Falling can be devastating, but there are ways to help prevent these accidents, and we want to share those tips with our community."
The one-hour Eskaton events will include a viewing of the never-before-seen "Before the Fall," a KVIE documentary about fall prevention and recovery. Attendees will view the film, have the opportunity to ask questions and receive a 28-page educational workbook filled with checklists and tips.
"Before the Fall: Prevention and Recovery" was produced by Emmy-winning documentarian Karen Christian. From concept to interviews, she spent nearly six months following up with the older adults in the documentary. "We were able to see some members of a senior community measure their progress and work at fall-prevention efforts over the span of several months," noted Christian. "Falling doesn't have to happen to us as we age…a great many falls can be prevented."
Falls are the leading cause of death, injury and hospital admissions among older adults. In the Sacramento region, 51,000 falls are reported each year, each costing roughly $39,000 in medical bills. One of the main factors of falling is limited physical activity. During these events, attendees will be shown simple exercises that can be done at home.
For the full schedule of Eskaton educational workshops in September, see below or visit http://www.eskaton.org/balance.
About Eskaton
Founded in 1968, Eskaton is now the largest nonprofit community-based organization serving seniors in the Greater Sacramento area. Our dedicated team members provide services and support for nearly 12,000 individuals annually who live in our communities or participate in our comprehensive Home Support Services. Eskaton's difference lies in our broad array of choices and affordable options to engage and support people living in their own homes, as well as those who choose to live in one of our communities. Our positive reputation extends to our signature life-enriching programs, innovative health and wellness initiatives, professional staff training and development and generous philanthropy. These, along with our nonprofit status, are Eskaton's distinguishing factors. For more information, please call (866) ESKATON, or visit http://www.eskaton.org.
About the NALA™
The NALA offers small and medium-sized businesses effective ways to reach customers through new media. As a single-agency source, the NALA helps businesses flourish in their local community. The NALA's mission is to promote a business' relevant and newsworthy events and achievements, both online and through traditional media. The information and content in this article are not in conjunction with the views of the NALA. For media inquiries, please call 805.650.6121, ext. 361.