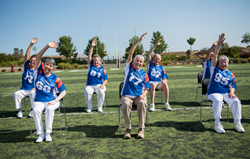 We want people to be aware that most falls are preventable, and we provide resources to seniors and their families.
Sacramento, CA (PRWEB) September 15, 2016
Eskaton's No Falls League recently got out on the football field and recorded a video for National Falls Prevention Awareness Day, coming September 22, 2016. The video, "Ready Steady Balance," was named after the National Council on Aging's 2016 initiative. Eskaton developed the video to highlight efforts in providing resources and programs to transform the aging experience while supporting larger efforts to reduce the number of falls. In the video, Eskaton's Fall Prevention Team shows their peers how to have fun while exercising and prevent falls.
"We take a fun and new approach to teaching fall prevention, which can help reduce the number of falls each year," said Eskaton Fitness and Wellness Coordinator Christy Barry. "The specially designed fall prevention exercises help strengthen muscles, improve coordination, and build faster reaction times, just in case you do lose your balance."
The No Falls League, comprised of Eskaton's independent living residents, are seniors aged 67 to 95, wearing football jerseys reflecting their age. Led by Barry, the seniors in the video demonstrate several exercises showing how easy it is to improve balance and strength, helping to reduce fall risk. Low-impact exercises include knee lifts, weight shifting, shoulder rolls, overhead arm reach, arm reach across the chest and more. To watch the video and download a checklist, please visit http://www.eskaton.org/fall.
In addition to the fall-prevention video, Eskaton is offering fall-prevention assessments and classes. Between September 15-23, Eskaton communities will provide an exercise class, such as Tai Chi or yoga, that is open to the public and will focus on better balance, strength and flexibly. "We want people to be aware that most falls are preventable, and we provide resources to seniors and their families," said Barry. For a list of classes, visit http://blog.eskaton.org/class-schedule-fall-prevention.
According to the National Council on Aging, every 11 seconds an older American is seen in the emergency room for a fall, and every 19 seconds a senior dies from a fall, which is the leading cause of death for an older adult. Eskaton continues to provide education and training for seniors year-round to reduce the injury and fatality rate and improve quality of life.
About Eskaton
The vision of Eskaton is to transform the aging experience. Its dedicated team members provide services and support for nearly 12,000 individuals annually who live in Eskaton communities or participate in its comprehensive home-support services. Eskaton is also pet-friendly. For more information, please call (916) 334-0810, or visit http://www.eskaton.org.
About the NALA™
The NALA offers small and medium-sized businesses effective ways to reach customers through new media. As a single-agency source, the NALA helps businesses flourish in their local community. The NALA's mission is to promote a business' relevant and newsworthy events and achievements, both online and through traditional media. For media inquiries, please call 805.650.6121, ext. 361.