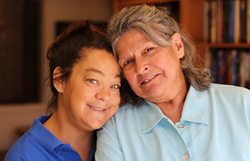 We set these standards because we care about our residents, and our five-person staff works closely together to ensure the residents have a wonderful community to call home.
Sacramento, CA (PRWEB) March 14, 2017
Both Eskaton Lincoln Manor and Eskaton Natomas Manor were nationally recognized as Communities of Quality by the National Affordable Housing Management Association (NAHMA). "Our community won because the staff are truly dedicated to making Lincoln Manor the best place for older adults to live," said Elizabeth Catron, executive director, Eskaton Lincoln Manor in Placerville, CA. "We have set high standards in all areas of our operations -- business office, maintenance, housekeeping, customer service, resident relations and social service coordination."
Community of Quality award recipients met stringent criteria set by NAHMA, which include safe, attractive, modern and well-maintained housing, as well as aiding residents in ways rarely addressed in conventional rental housing settings.
"I'm proud to say that my staff and Eskaton have set a standard that goes above and beyond other affordable housing communities," said Donna Garrett, executive director, Eskaton Natomas Manor in Sacramento, CA. "We set these standards because we care about our residents, and our five-person staff works closely together to ensure the residents have a wonderful community to call home."
To become a Community of Quality, communities have to meet standards in employee credentials, as well as physical maintenance, financial management, and programs. Outstanding programs made possible through Eskaton Foundation include the Resident Care Fund, non-medical home care for residents who cannot afford nor qualify for free in-home support services (IHSS); the award-winning Eskaton Kids Connection, which partners Eskaton communities with local elementary schools to create intergenerational friendships; and Transportation Plus, designed to provide low-income seniors with round-trip rides to places such as doctor's offices and grocery stores.
"Eskaton affordable housing communities stand out because of the quality of life enhancements that they offer," said Catron. "This includes service coordination, intergenerational opportunities, community involvement, wellness activities and social activities."
Eskaton provides 850 units of quality apartments to very low and extremely low income seniors (age 62 and over) in Northern California. Residents pay only 30% of their adjusted gross income and the Department of Housing and Urban Development (HUD) provides rent subsidy through Section 8 and PRAC contracts. "The need for more affordable units continues to greatly increase as Baby Boomers age," concluded Cathy Sailor, Eskaton's Vice President of Affordable Housing.
About Eskaton
The vision of Eskaton is to transform the aging experience. Its dedicated team members provide services and support for nearly 12,000 individuals annually who live in Eskaton communities or participate in its comprehensive home-support services. Eskaton services include independent living, assisted living, memory care, short-term stays, rehabilitation and skilled nursing, adult day, home health, in-home care, and affordable housing. Eskaton is pet-friendly. For more information, please call (866) ESKATON, or visit http://www.eskaton.org.
About the NALA™
The NALA offers small and medium-sized businesses effective ways to reach customers through new media. As a single-agency source, the NALA helps businesses flourish in their local community. The NALA's mission is to promote a business' relevant and newsworthy events and achievements, both online and through traditional media. For media inquiries, please call 805.650.6121, ext. 361.