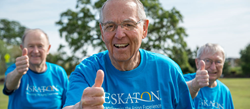 Everyone wants the very best care for their loved ones, and Caring Stars helps family caregivers find the providers that have delivered excellent service for others like them.
Sacramento, CA (PRWEB) January 04, 2017
Eskaton is proud to announce nine of its senior living communities and its in-home care provider recently achieved national recognition by earning five-star consumer ratings for outstanding service excellence among the caring.com audience. The Caring Stars program from caring.com, the leading resource website for senior care, measures consumer reviews to honor the best senior living communities and home care agencies in the United States.
Caring.com recognized five Eskaton independent living communities: Eskaton Hazel Shirley Manor, Eskaton Lincoln Manor, Eskaton Monroe Lodge, Eskaton Village Carmichael and Eskaton Village Placerville. Caring.com also recognized four Eskaton assisted living communities: Eskaton Fountain Wood Lodge, Eskaton Lodge Cameron Park, Eskaton Village Placerville and The Parkview at Pleasanton.
Additionally, caring.com awarded Live Well at Home by Eskaton a Caring Star. All reviews were collected between October 2015 and September 2016 and averaged 4.5 stars or better. Eskaton received positive feedback that distinguished it as a Caring Star recipient from a plethora of people, including a resident at Eskaton Village Placerville who said, "Since moving in years ago, I have been very satisfied with the care...My apartment is cozy and I feel at home. The staff is friendly and open to suggestions. I enjoy all the activities offered."
In multiple caring.com research studies, the majority of family caregivers indicated they turn to the Internet and consumer reviews when researching and selecting a senior living community. These reviews help guide families when making these emotional senior care decisions.
"Finding professional senior care for an aging parent or ailing spouse can be overwhelming and time-consuming, particularly if your need is urgent and you have little-to-no knowledge of your options," said caring.com CEO Karen Cassel. "At caring.com we are focused on helping ease that burden for family caregivers, and the annual Caring Stars recognition list is one of the free resources we offer to support them in the senior care search. Everyone wants the very best care for their loved ones, and Caring Stars helps family caregivers find the providers that have delivered excellent service for others like them."
To learn more about the Caring Stars program and view the complete winners list, please visit http://www.caring.com/bestseniorliving.
About Eskaton
The vision of Eskaton is to transform the aging experience. Its dedicated team members provide services and support for nearly 12,000 individuals annually who live in Eskaton communities or participate in its comprehensive home-support services. Eskaton services include independent living, assisted living, memory care, short-term stays, rehabilitation and skilled nursing, adult day, home health, in-home care, and affordable housing. Eskaton is pet-friendly. For more information, please call (866) ESKATON, or visit http://www.eskaton.org.
About the NALA™
The NALA offers small and medium-sized businesses effective ways to reach customers through new media. As a single-agency source, the NALA helps businesses flourish in their local community. The NALA's mission is to promote a business' relevant and newsworthy events and achievements, both online and through traditional media. For media inquiries, please call 805.650.6121, ext. 361.