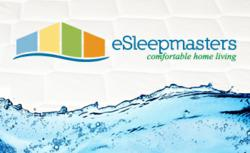 Tempe, AZ (PRWEB) March 22, 2014
To celebrate the arrival of Spring, waterbed store eSleepMasters.com invites shoppers to save sitewide with their first major promotion of the year. The event takes place for a limited time only in March 2014 and represents the retailer's largest offer yet on their expansive collection of waterbeds.
eSleepMasters' Spring Savings Event allows customers to take an additional 10% off any waterbed mattress or bundle, on top the website's already reduced pricing. The offer may be applied during online checkout with the coupon code "SAVE10", which will remain valid from 3/21 through 3/27 at Midnight, Mountain Standard Time. The coupon may not be combined with any other promotional codes. All orders over $50 are also eligible for free shipping (no code required).
Waterbed offerings include shallow, mid and deep-fill softside waterbeds with a variety of options ranging from tubes to waveless bladders. Including the 10% promotional offer, queen size softside waterbeds with free flow bladders start around $510, with free shipping included. Hardside water beds are available in free-flow, semi-waveless and waveless designs, as well as dual options. Traditional hardside waterbeds will be available from $63 during the event, with free shipping included.
The website features over 130 water mattresses including both traditional hardside models and softside waterbed systems. Customers can browse and compare collections from famous brands like Innomax, US Watermattress, Boyd and more, taking advantage of savings up to $300 off during the Spring event on top of eSleepMasters everyday competitive savings of up to 30% off MSRP. Sheets, waterbed covers, maintenance supplies, heaters and other accessories are also available on the website.
In business since 2006, eSleepMasters provides competitive prices on top-quality waterbeds and accessories, as well as dedicated in-house customer service. The eSleepMasters.com website retails a wide variety of hardside and softside waterbeds from top manufacturers, in addition accessories replacement parts, bedding, and maintenance supplies.