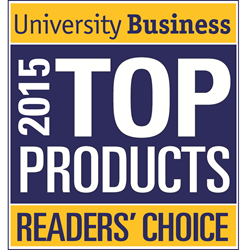 Warrington, Pa. (PRWEB) February 09, 2016
ESM's easyPurchase, an intuitive online ordering application that streamlines procurement activities, is among University Business magazine's "Reader's Choice Top Products" for 2015.
Higher education leaders from across the country nominated products that make a positive difference on college campuses. The winners were compiled from hundreds of nominations from the magazine's readers in the past year. The Readers' Choice Top Products has been announced online and in the January 2016 issue of University Business.
"It was inspiring to learn about the products being used in today's colleges and universities that are helping students succeed," says JD Solomon, the University Business editorial director. "All of our 2015 honorees should be very proud of their success."
The University Business Readers' Choice Top Products award program informs higher ed leaders about products their colleagues around the country are using to help their campuses excel in areas such as technology, sustainability and academic instruction.
ESM's easyPurchase helps campuses better manage spend, control costs and improve compliance with a faster eProcurement solution. easyPurchase easily integrates with an organization's ERP and financial system of record, offering a seamless approach to the procure-to-pay process.
Ivy Tech Community College, Indiana's largest public college system with more than 200,000 students, implemented easyPurchase in less than six months. Today, 95 percent of the system's $175 million in spend is running through easyPurchase. The system also enjoys a 40 percent reduction in office spend, among other enhancements.
Ivy Tech is one of many higher education systems that have signed on to use easyPurchase and other pieces of ESM's procurement and spend management solutions suite. Multiple campuses in the California State University system and the Wisconsin Technical College System are recent easyPurchase converts.
"We've been honored to help out so many large institutions get a better handle on their spend through easyPurchase and our other solutions, " said Anthony Rotoli, ESM's Co-CEO for revenue. "I'm thrilled that University Business has recognized easyPurchase's role in those efforts."
About University Business
University Business is the most widely received, most regularly read publication for higher education leaders at two- and four-year colleges and universities nationwide. UB provides cutting-edge coverage of higher education technology, news, finance, policy, profiles and more to this exclusive audience across print, digital and in-person event platforms, including the annual higher ed technology conference, UBTech. Independent surveys have proven that year after year, no other higher education management publication matches the reach, readership and audience engagement of University Business. For more information, visit http://www.universitybusiness.com.
About ESM
ESM is a leading provider of cloud-based spend management and eProcurement solutions, giving customers complete control of their spend through a comprehensive suite of integrated, yet modular solutions. The company's flexible sourcing, purchasing, invoicing, analytics and contract management applications help organizations save time and money. As a SaaS-based solution, ESM Solutions makes financial system integration, data visibility and streamlining of the entire procure-to-pay process fast and easy. On the web: http://www.esmsolutions.com.