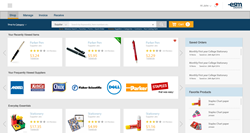 Reduce rogue spending with an eProcurement platform that tracks spend, and is also something that employees want to use.
Warrington, Pa. (PRWEB) August 10, 2016
ESM, a leading provider of cloud-based procure-to-pay solutions, unveiled today a new user interface for its award-winning eProcurement solution.
ESM Purchase's interface makes for a convenient and intuitive shopping experience, familiar to anybody who has navigated an e-commerce site. The online ordering application automates procurement activities and gives organizations more control and visibility of their spend.
Starting with an updated login portal, users can shop; manage purchases; and track invoices and receivables all with a single click from the new purchaser dashboard. They can pull up recently viewed items; saved selections; preferred suppliers; and favorite products. Shoppers also can quickly sort for items - from pens to sophisticated laboratory equipment - and review or filter a variety of options before checking out in the enhanced cart functionality.
The refreshed interface makes it even easier for users to adopt ESM Purchase, which integrates with ESM's sourcing and contract management solutions as well as an organization's ERP system. It's just one more boost to ESM Purchase, which was one of University Business magazine's "Reader's Choice Top Products" earlier this year.
The configurable solution also is affordable. ESM offers several price points based on a customer's needs.
"The best way for organizations to reduce rogue spending is to adopt an eProcurement platform that not only manages and tracks spend, but also is something that users want to use and can easily learn with little to no training," said ESM's co-CEO Anthony Rotoli. "This new user interface does exactly that."
To learn more about ESM Purchase and the new user interface, schedule a personal demo.
About ESM
ESM is a leading provider of cloud-based spend management and eProcurement solutions, giving customers complete control of their spend through a comprehensive suite of integrated, yet modular solutions. The company's flexible sourcing, purchasing, invoicing and contract management applications help organizations save time and money. As a SaaS-based solution, ESM makes financial system integration, data visibility and streamlining of the entire procure-to-pay process fast and easy. On the web: esmsolutions.com.