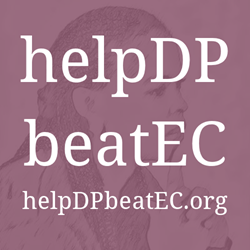 Diann is undergoing treatment for cancer and no longer able to work but still has monthly living expenses that must be paid.
Miami Beach, Florida (PRWEB) May 11, 2015
South Florida restaurant and foodservice industry owners, managers and in-the-business professionals are being asked to assist one of their own by subscribing for fundraising sponsorships and crowdfunding donations at helpDPbeatEC.org, a website and blog recently launched to raise money for Diann Pearson, a hardworking and popular member of SoBe's bohemian ITB crowd since 1992, who was recently diagnosed with esophageal cancer.
According to her "About DP" profile at helpDPbeatEC.org, "over the years Diann has received many accolades from grateful owners, managers and frequenters of the trendy South Beach restaurants and watering holes where she earned her pay every day." Since the oncologists at Jackson Memorial Hospital reported her tumor was malignant on Friday the 13th of February, however, Ms. Pearson has had a chemo port embedded in her chest, an enteral feeding tube implanted in her stomach, and a stent installed in her esophagus. She is undergoing chemotherapy and pursuing other cancer treatments, and is no longer able to work as a bartender, waitress, server or hostess like she did for most of her adult life. But Diann still has medical bills, rent, utilities and other living expenses that must be paid. For that reason, helpDPbeatEC.org is soliciting website advertising sponsorships from South Florida food and beverage businesses as well as individual donations from her service industry colleagues and the drinking and eating establishment customers they serve:

Sponsorships. For a monthly pledge of $500.00 or more, any individual, family, corporation, business, organization, charity or cause will receive a semantically-optimized Sponsor Page on helpDPbeatEC.org that can include up to 5,000 characters, 500 words of content, 5 images or embedded videos, and 5 external links. In addition, their linked logo or avatar will be included in the Sponsors Section on the main content panel of every static page and blog post on the site.
Donations. For a monthly pledge of $30.00 or more, individual or other contributors can have their name with link added to the "Make a Difference" wall of fame at helpDPbeatEC.org. Anonymous contributions are also welcomed. Supporters are also invited to register as a subscriber so they can post comments to the web pages and blog posts of the site. The first comment is moderated and may not appear for up to 24 hours. All subsequent comments should appear within one minute.
There are only ten sponsorship positions available at helpDPbeatEC.org, and it speaks well for Ms. Pearson that the first two positions have already been taken by her most recent employers: John Kunkel's 50 Eggs Inc. was the owner of the franchise-prototype original Lime Fresh Mexican Grill on Alton Road, where the site says "Diann kept the sauce racks filled, the food orders flowing, the customers happy and the management trainees snappy from the year they first opened until John decided it was time to try something new." Cafe Avanti general manager Jessica Fuentes is also the proprietor of Contigo Bistro, a.k.a. the restaurant at the Tower House on Collins Avenue, where for many years Diann served "exquisite meals, fine wines and luxury liquors[,] pleased many patrons and made many friends." And according to helpDPbeatEC.org, "the residents of Tower House were among the first to open their hearts and wallets to support Diann in her time of need. She is deeply grateful for their early and ongoing generosity."
To help Diann Pearson ("DP") beat esophageal cancer ("EC"), go online to helpDPbeatEC.org and make your pledge.