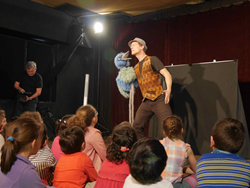 eSpectacularKids provides an effective tool to strengthen playful learning and an entertaining alternative from cartoons
Madrid, Spain (PRWEB) April 15, 2015
For the first time, anyone with internet access can enjoy online magic, theater and storytelling that encourages kids' active engagement. The videos provide an educational tool for children 2-12 years old, quality entertainment that provides a shift away from cartoons and ubiquitous advertising. It brings performing arts to children, at home or in the classroom, who otherwise may not have the opportunity to see a show due to time or economical barriers.
"Whilst the library is not a substitute for the real theater, it's amazing to see kids reacting to the shows, chiming in with storytellers and laughing at a magician's misfortune as a trick goes wrong. It provides an entertaining alternative from cartoons," said Mariella Gambardella, cofounder of eSpectacularKids.
The video library so far features 45 high quality shows (24 in English and 21 in Spanish) with each featuring a professional performance artist. Each show is 5-20 minutes long with a new show added to the eSpectacularKids site each fortnight. Videos can be bought with monthly, six-month or yearly subscriptions, and there are also gift cards available. There are some free videos available on the site.
To complement some of the videos, eSpectacularKids, with the help of a psychoeducational team, is also creating educational guides for teachers and parents. The guides are suitable for children three years and up and offer a number of activities and games with a learning objective in mind.
"eSpectacularKids provides educators and parents a tool to strengthen playful learning, which is considered to be more effective as children can enjoy themselves at the same time. For parents the guides are a simple format with clear instructions. For teachers, it proposes fun activities to do which can be adapted to suit each educator's classroom and students," said Mariella.
About eSpectacularKids: eSpectacularKids is the first online video library of shows in English and Spanish for children from 2-12 years old. Through eSpectacularkids, children can enjoy high quality performances with professional performance artists. All videos – storytellings, theater, magic and clowning, have great benefits for child development.
For more information contact:
Mariella Gambardella, Co-Founder, eSpectacularKids
e-mail mg(at)espectacularkids(dot)com
Web: http://www.espectacularkids.com/en
Blog: http://www.espectacularkids.com/blog/en