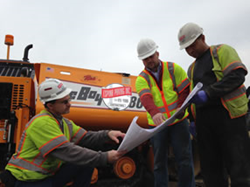 Espina Paving, Inc. serves commercial customers such as businesses, homeowners associations, apartment complexes and other organizations that require large parking areas or roadways.
Woodbridge, VA (PRWEB) February 27, 2014
Espina Paving, Inc., a Northern Virginia concrete services and asphalt paving contractor in Woodbridge, just released their new website. Vice president of the company, Joe Roubin, Jr., hopes that the new website will make it easier for customers to communicate with them and find useful information about their paving services. Roubin adds that the new website includes a link to the company's YouTube channel where people can view how paving work is done, and a blog covering topics that will educate and inform people about protecting their pavement so it will last longer.
Roubin is excited and expects that the new website will become an important resource for customers. "We needed a new, more useful website; we felt it was important to add that extra level of contact between us and our customers, and also provide useful information to provide customers what they need, when they need it. We've been in the business of asphalt paving and concrete services in Northern Virginia for three decades and we know how challenging it is for our customers to juggle so many projects at once. Our new website gives them multiple, convenient ways to connect with us, even from their mobile devices and via social media. It will also include a lot of helpful advice on protecting their paving investments."
According to Roubin, visitors to the new website will be able to learn about the services the company provides in more concrete ways, particularly through their YouTube channel and blog. Visitors to the website can access the Espina Paving YouTube channel from an icon on the top right of any page on the site. They can also connect with the company via Facebook and LinkedIn from neighboring icons. Roubin is also eager to share the company's new blog. He says that the blog will be updated periodically with information about different types of paving projects, different paving materials, how to protect asphalt from harsh conditions, sealants, etc.
Roubin says that there is a lot of value to providing this information to customers. "People rarely think about their pavement unless there's a problem with it—and problems do come up. These problems aren't just expensive to fix if they're allowed to deteriorate, but can create safety hazards also. So our goal, apart from providing top quality services as a concrete services and asphalt paving contractor, is to help our customers have the knowledge they need to prevent potential problems and address damage quickly so that they, their customers or residents can stay safe. The new website is fantastic resource that can help our customers protect their paving investments and their residents or customers."
Espina Paving, Inc. serves commercial customers such as businesses, homeowners associations, apartment complexes and other organizations that require large parking areas or roadways. To learn more, visit their new website at http://www.espinapaving.com.
# # #
Joe Roubin, Jr.
Espina Paving Inc.
15441 Farm Creek Drive
Woodbridge, VA 22191
(703) 491-9100
info(at)espinapaving(dot)com