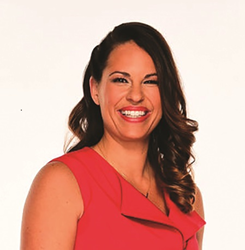 "The purpose of the conference is to reach out to young women and girls and to get the message out on motivating and empowering young girls to be the best that they can be," said conference creator Bill Conroy
ROSEMONT, Ill. (PRWEB) August 06, 2018
ESPN broadcaster Jessica Mendoza will join softball legend Jennie Finch, ESPN broadcaster Victoria Arlen, and Olympic gold medalist Laurie Hernandez as headliners at the "Empowering Girls for Life" conference to be held August 10-12 at the Rosemont Dome and the Donald E. Stephens Convention Center.
"The purpose of the conference is to reach out to young women and girls and to get the message out on motivating and empowering young girls to be the best that they can be," said show creator Bill Conroy.
Conroy knows a bit about empowering young ladies. Twenty years ago he started the Beverly Bandits, a nationally recognized elite fast pitch softball team that has won numerous national championships and has sent more than 400 young women to Division 1 college scholarships.
Empowering Girls for Life is a multifaceted, multimedia event featuring female leaders in athletics, business, entertainment and education. Half of the speakers are former national champions or Olympic gold medal winners.
The conference will provide a venue for girls from 7 to 17 to meet and interact with high profile women with proven track records of success in their respective fields. Empowering Girls for Life will also help girls and their parents get a head start on important pre-college necessities such as ACT/SAT testing, financial aid opportunities and the college selection process.
All women under 18 attending will receive a gift bag that will include vouchers, gift cards and souvenirs.
On Friday, August 10th from 5:00pm – 9:00pm, NCSA will be conducting measurables for all female sports to be entered into the national database. The event will be held at the Rosemont Dome, 34 Jennie Finch Way, Rosemont, IL 60018.
The conference then moves to the Donald E. Stephens Convention Center at 5555 North River Road, Rosemont, Illinois 60018 on Saturday, August 11th and Sunday, August 12th. Speakers will include:

Jennie Finch - Olympic Gold Medalist, All-American Champion, National Player of the Year, 2001 undefeated season (including 51 consecutive victories) at the University of Arizona and former Chicago Bandit.
Jessica Mendoza -- Currently a member of the ESPN's Sunday Night Baseball broadcast team, she is a four-time first team All-American outfielder for the Stanford Cardinal and a member of the 2004 Olympic gold-medal winning US softball team.
Victoria Arlen – Paralympian Gold Medal Swimmer, ESPN sportscaster and ABC's Dancing with the Stars contestant.
Laurie Hernandez – USA Gymnastic Gold Medalist and winner of ABC's Dancing with the Stars.
Christa Dietzen – Captain of US Women's National Indoor Volleyball Team, two-time Olympic Medalist, World Championship Gold Medalist and two-time NCAA National Volleyball champion at Penn State.
Christie Pearce Rampone – Professional soccer defender for Sky Blue FC, three-time Gold Medalist with USA Olympic Soccer Team and two-time World Cup Champion.
Jessica Tenuta – 24-year-old Co-founder/CPO of Packback and Shark Tank winner.
Kaeya Majmundar – 22-year-old creator of Ziptank & BZBox and Shark Tank winner.
Kate Drohan – current Head Softball Coach at Northwestern.
Kathrine Switzer – First woman to run in the Boston Marathon as a numbered entry in 1967. Won the Women's New York City Marathon in 1974, named Female Runner of the Decade, Billie Award winner and Emmy award winner as a TV commentator and journalist.
Kendall Coyne – Led the 2018 gold medal Olympic Hockey team as co-leader in points scored. Helped Carl Sandburg win a 2010 Illinois High School Softball State Championship.
Lawyer Milloy – Former 2001 Super Bowl Champion with New England Patriots, 1st team All-Pro, four-time Pro Bowler, Jim Thorpe Award winner, and two-time MLB draftee.
Patty Gasso - Head Softball Coach at the University of Oklahoma and four-time NCAA Champion.
Stacey Nuveman - former four-time NCAA Division I softball All-American, three-time Olympic medalist and Head Coach of the Chicago Bandits.
Tracey Fuchs – Northwestern Field Hockey Head Coach, two-time field hockey athlete of the year, and member of two Olympic and four World Cup teams.
Whitney Reynolds – Host of the Whitney Reynolds Show.
For a complete schedule of speaker and more information, go to: http://www.empoweringgirls.life
# # #
Press Contact:
John Vita
John Steven Vita Communications
John.vita(at)jsvcom.com
847/853-8283