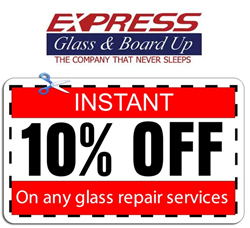 Our customers often seek out discounts and coupons for our services
Fort Lauderdale, FL (PRWEB) June 17, 2014
Express Glass Repair and Board Up Services (http://www.expressglassfl.com/), Fort Lauderdale's top glass repair company, is proud to announce an innovative discount coupon program aimed at South Florida small businesses and residents. The coupon provides 10% off glass repair or replacement services, both residential and commercial, especially those living in Fort Lauderdale and Miami, Florida.
"Our customers often seek out discounts and coupons for our services," explained Yani Santos, general manager of Express Glass. "However, price is not the only objective. Our service and quality is second to none in the Florida glass repair business. Therefore, our discount coupon program is a way to improve awareness not only of our prices but our quality."
To learn more about the discount coupon program for glass repair, please visit http://www.expressglassfl.com/4513-2/. There one can find a discount coupon good for 10% off of glass repair services.
Discounts and Coupons for Glass Work
Price, of course, is not the only parameter to be used in selecting a top glass repair company in South Florida. Residents and businesses of both Fort Lauderdale and Miami are reminded to check the reputation and quality of any repair shop that they might seek out. While not active in the auto glass segment, Express Glass Repair and Board Up seeks to offer top quality services for sliding glass doors, windows, and businesses as well as board up services after a burglary or accident. The company is well prepared for emergency or 24/7 request for service. On top of that, the new discount coupon program allows South Florida residents to have the best of both worlds: high quality work for their home or business at an affordable price point.
About Express Glass Repair and Board Up
Express Glass and Board Up Service Inc. is a family owned and operated glass repair business with more than 20 years of experience. Their professional technicians and the large variety of inventory make Express Glass the top glass repair service. If customers are looking for Miami glass repair or Miami glass repair as well as glass repair in Delray Beach or West Palm Beach glass repair, please reach out to the company for a free estimate. If customers need a 24/7 Sliding Glass Door repair service in Miami or Boca Raton or Miramar, technicians are standing by. The company specializes in sliding glass door repair and window glass repair; technicians will handle any glass replacement situation efficiently. Home or business glass repair is the company's main priority.
Express Glass Repair and Board up
http://www.expressglassfl.com/