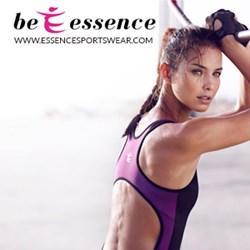 With BeEssence you will always bring out your natural beauty.
Delaware (PRWEB) November 26, 2013
The company welcomes you to its culture of eco-friendly, flexible women's sportswear products designed for stylish women with a passion for exercise.
The new Urbanity 88 Collection line promises to free up the user's moves during any given workout session thanks to a selection of hand-picked materials. Included in the collection are our line of workout, running & yoga pants (Classic, California, Ibiza, London, Soho), (Phoenix) jumpsuits, classic leggings, tanks and running vantage tops.
As a legitimate Sportswear company, the mission of BeEssence.com is to help women feel comfortable both inside and outside the gym. All products from the new Urbanity 88 Collection are created to fit the unique body form of every single buyer.
The company is fully committed with the creation of sportswear for sophisticated women with a passion for both exercising and style. The New Collection offers products that are not just comfortable but also impact-resistant in order to stand up to different levels of training.
The designs are quite adaptable due to the usage of innovative components, mainly their Supplex fabric, which acts almost like a second skin and stretches an incredible 40% extra without missing any of the comfort.
Another outstanding feature of the Urbanity 88 Collection by Essence Sportswear is the revolutionary waist roll system, which allows women to adjust pants and shorts to fit perfectly to their waist at any given moment.
All products are manufactured based on the company's very own ecological ethics and using sustainable practices. Essence Sportswear only works with reputable suppliers whom provide materials which comply with standard environmental requirements and that also respects the integrity and dignity of the people they employ.
EssenceSportswear.com prefers to work with factories that are known for their high-quality products and which strive to utilize recycle friendly materials.
When it comes to their production line, Essence Sportswear ensures that they don't make use of child labor because they believe in the rights kids have to live a happy childhood filled with fun and educative activities.
EssenceSportswear.com was founded back in May 2011. The company's goal since the begging was to create flexible and comfortable women's sportswear products for hard workout routines.