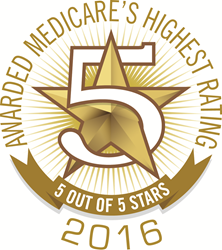 Essence is the only Medicare Advantage plan in Missouri and Illinois and 1 of only 12 plans in the nation to receive an overall plan rating of 5 Stars.
St. Louis, Missouri (PRWEB) October 12, 2015
Essence Healthcare, a St. Louis based health plan serving over 50,000 Medicare beneficiaries in Missouri and Illinois, announced today the company received an overall plan rating of 5 out of 5 Stars from the Centers for Medicare and Medicaid Services (CMS) for the 2016 plan year. Essence Healthcare is the only Medicare Advantage plan in Missouri and Illinois and 1 of only 12 plans in the nation to be awarded an overall plan rating of 5 Stars.
The Star Rating system was created by CMS to provide an impartial way for people with Medicare to compare the quality of health plans in their area. Each year CMS evaluates over 600 medicare advantage plans based on over 50 service and care quality measures including how plans help members stay healthy and better manage chronic health conditions they may have. The quality of the plan's customer service and member satisfaction surveys are also important factors that determine a plan's Star rating.
"Essence is extremely proud to offer the area's only 5 - star Medicare plan," said Richard Jones, CEO of Essence Healthcare. "While I believe this rating certainly says a lot about our company and our employees, it also says a lot about our community. Essence shares this recognition with the local hospitals, doctors, and nurses who work with us to make sure every person with Medicare in our community has access to affordable, high quality health care."
The great results Essence has achieved in St. Louis has received national attention among many in the health care industry. Essence's collaborative approach to health insurance, one that focuses heavily on helping primary care physicians better coordinate and manage the care of their patients, is now being adopted by other health plans and health systems nationwide.
"A lot of eyes are now on Essence and what we have been able to accomplish here in St. Louis," said Dr. Debbie Zimmerman, Chief Medical Officer at Essence Healthcare and a native St. Louisan. "We know our approach is really making a difference when it comes to the health and wellness of seniors in our community and it is gratifying to see that model, created and perfected here in St. Louis, be adopted by others around the nation to improve the health of the communities they serve."
Essence Healthcare's Medicare Advantage plans are available in eight St. Louis area counties in Missouri and Illinois as well as Boone County, Missouri. Essence also offers a Medicare Advantage plan designed in partnership with the CoxHealth system called CoxHealth MedicarePlus which serves four counties in the Springfield, Missouri area.
Qualified Medicare beneficiaries' looking to enroll in one of Essence's 5-Star plans can begin doing so on October 15th, 2015 when the 2016 Medicare Annual Enrollment Period begins.
About Essence Healthcare
Founded in 2004, Essence Healthcare provides comprehensive and affordable health insurance to over 50,000 people with Medicare in Missouri and southern Illinois. Every Essence Medicare plan includes hospital, medical and prescription drug coverage as well as valuable extra benefits and financial protection not offered by Original Medicare. Essence's unique approach to health insurance and unwavering commitment to protecting the health and wellness of people with Medicare has helped the company earn the trust of the many communities it serves as well as national recognition as a leader in the positive transformation of our country's healthcare system. To learn more about Essence Healthcare please visit http://www.essencehealthcare.com or call 1-866-509-5398.
Medicare evaluates plans based on a 5-star rating system. Star Ratings are calculated each year and may change from one year to the next.