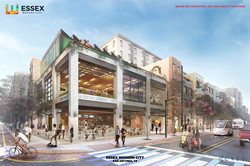 So epically badass... you're blowing my mind!
San Antonio, Texas (PRWEB) March 02, 2017
Essex Modern City (EMC) has officially unveiled new images of the future Eastside project. Local Developer Efraim Varga of Varga Endeavors (vargaendeavors.com) has partnered with Harris Bay (harris-bay.com), a Sacramento-based Investment Firm headed by Managing Partners Jake Harris and Anton Bayer, to come up with a game changing design for the Eastside of San Antonio, Texas.
Exclusive early insiders who got a sneak peak of the images were quoted with statements like:
"Holy $#!%, these are stunning!
"Ridiculous"
"So epically badass... you're blowing my mind"
The former pallet manufacturing site sits along Essex Street bordered by S. Cherry Street heading north up to Carolina Street. The developers have pieced together just over eight acres to give the project some impact. Jake Harris said the site location was one of the key factors in the decision to move forward with the project. Of course there is no perfect site, we do have some challenges such as the railroad tracks and a freeway close by. However, looking at the site from a geographic standpoint, it is within one mile of the Riverwalk, Hemisfair and walking distance to the booming Southtown.
Kris Feldmann of CREO (creoarc.com), a San Antonio-based architectural firm has been a key component to taking early concepts and incorporating them into a project that is posed to forge a new era of sustainable urban development in San Antonio.
Essex Modern City is a true mixed use project with phase one featuring vertical farming, a central plaza, 248 for rent apartments, 160 for sale condos, 80 for sale live/work modern rowhomes, 65,000 square feet of commercial store front, 22,000 square feet Mercado and 80,000 square feet of creative office space. Site work is scheduled to begin late 2017 and will begin to go vertical in 2018.
One of the unique features of the Essex Modern City project is that there are units available for sale. As rent prices continue to climb in the urban core market, more people will make the decision to buy a unit in a project like this. "We are offering some unique residential options like walk-up Rowhomes that you might find in New York City," stated Anton Bayer. In fact, many exclusive early "INSIDERS" have been pushing to try and lock up units with presales. INSIDERS do get early information on the project and invites to special events. Efraim Varga said that those INSIDERS will get pre-market access to pricing before the prices are released.
It seems like everyone in San Antonio is throwing around the phrase, "The next Pearl", for every new project that comes online in San Antonio. Kit Goldsbury and Silver Ventures have done a tremendous job at elevating San Antonio but, Harris Bay and Varga Endeavors believe the city doesn't need a new Pearl, it needs something new and different. With features like vertical farming, local craftsmen retailers, smart garage parking, self-driving vehicles, rock-climbing walls in the plaza and a higher level of connection to the community- Essex is that new project that can drive innovation in a city primed for cutting edge design. Jake Harris was quoted at a recent Bisnow panel "If Pearl is the Culinary Institute of America project, Essex will be the James Beard award winning taco trailer with a wicked cool startup app".
Contacts:
http://www.essexmoderncity.com
Jake Harris – Managing Partner
jake(at)harris-bay(dot)com
Anton Bayer – Manager
anton(at)harris-bay(dot)com
Efraim Varga – CEO
Efraim(at)vargaendeavors(dot)com
Kris Feldmann – Design Principal
kris(at)creoarc(dot)com