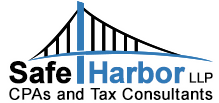 The major changes in health care laws have provoked a lively debate," explained Chun Wong, Managing Partner at Safe Harbor LLP.
San Francisco, CA (PRWEB) August 14, 2013
Safe Harbor LLP, a top San Francisco CPA Firm, is proud to release their latest tax newsletter available at no cost on the firm's website. This month's newsletter has an informative focus on long term care as well as succession planning.
"The major changes in health care laws have provoked a lively debate," explained Chun Wong, Managing Partner at Safe Harbor LLP. "Many clients are coming to us asking for tips about long term health care in particular, as well as other types of planning such as estate planning."
To read the July, 2013 tax bulletin, simply visit the San Francisco CPA firm's website at http://www.safeharborcpa.com/ and click on the right column. Interested parties can also reach out to the firm via email or telephone directly from the website.
Life's Realities and Long Term Health Insurance
Many Americans mistakenly believe that Medicare will cover all of their health care costs as they age. However, as life expectancy increases, more and more Americans may find it advantageous to obtain so-called "Long Term Care" insurance or LTC. One recent study found that the direct health costs for dementia including nursing homes were $109 billion in 2010, greater than the cost of heart disease care of cancer.
In terms of tax benefits, certain "Qualified" long-term care (LTC) insurance policies can be deliver tax benefits. For example, some of the expenses of the insurance can be tax deductible. The article in the firm's latest newsletter discusses these issues; but anyone with a serious interest is also advised to contact the firm for a consultation.
IRS Circular 230 Notice
The Internal Revenue Service requires Safe Harbor LLP to inform the reader that any tax advice contained in this correspondence cannot be used for the purpose of avoiding penalties under the Internal Revenue Code or for promoting, marketing or recommending to another party any transaction or matter addressed.
About Safe Harbor LLP – a Professional CPA Firm in San Francisco
Safe Harbor LLP is a CPA firm that specializes in accounting and tax services for individuals and businesses throughout the San Francisco Bay Area and greater California. Safe Harbor CPAs helps both individuals and businesses with tax preparation, IRS audit defense, and audited financial statements. The firm prides itself on friendly yet professional service and utilizes state-of-the-art Internet technology to provide quality customer service.
Safe Harbor CPA
http://www.safeharborcpa.com
Tel. 415.742.4249