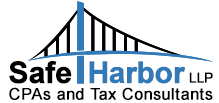 We are very committed to client education.
San Francisco, CA (PRWEB) September 24, 2014
Safe Harbor LLP (http://www.safeharborcpa.com/), a top San Francisco CPA firm for estate planning, is proud to announce that the newest section of their blog focused on estate planning now sports six informative articles.
"We are very committed to client education," explained Chun Wong, CPA, managing partner at Safe Harbor LLP. "Accordingly, more and more of our blog posts aim to summarize important issues in the area of estate planning for San Francisco businesses and residents."
To visit the blog and directly access articles touching on topics of estate planning in San Francisco, please visit – http://www.safeharborcpa.com/tag/estate-planning/.
San Francisco Estate Planning: Blog Topics
Among the items discussed on the company's blog that deal with estate planning are the following:
· Retirement Planning: Drawing on Income vs. Drawing Down Principal
· IRAs and the Issues of Inheritance and Bankruptcy
· Passive Investing and Why Lower Fees are the Key to Retirement Success
· Succession Planning as an Integral Part of Estate Planning for San Francisco Residents & Businesses
· Trust and Estates: How a CPA Can Help
Additional articles can be accessed on the blog. Be advised that he firm is also interested in article ideas or questions from interested parties. Those can be submitted via the website.
About Safe Harbor LLP – a Professional CPA Firm in San Francisco
Safe Harbor LLP is a CPA firm that specializes in accounting and tax services for individuals and businesses throughout the San Francisco Bay Area and greater California. Safe Harbor CPAs helps both individuals and businesses with tax preparation, IRS audit defense, and audited financial statements. The firm prides itself on friendly yet professional service and utilizes state-of-the-art Internet technology to provide quality customer service.
Safe Harbor CPA
http://www.safeharborcpa.com
Tel. 415.742.4249