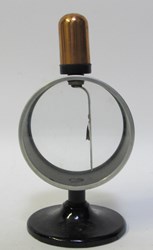 You can view the items now on eBay by searching 'YQZ What is it.'
Eastern Shore, DE (PRWEB) November 07, 2013
Estate Auctions, Inc. is pleased to offer a unique and fun opportunity to own a few of the quirkiest and odd items they have ever listed on eBay. The 15 year eBay veterans have attempted to identify and describe these items but decided to include "What Is It?" in the title of the mystery items. They hope to have input and identification from other as the items are discovered.
"We come across a few items every now and then that have us stumped but to have an entire collection was a little overwhelming. We did our pre-research and quickly decided we had very few ideas to what many of the items were. We then decided that our loyal clients and others browsing eBay may have the answers for us. Within 24 hours of the start of the auctions we received several messages identifying different items," says Norb Novocin, owner of Estate Auctions, Inc.
You can view the items now on eBay by searching "YQZ What is it."
Rare and valuable antiques are the norm for the Novocin's. They continue to satisfy the taste of a loyal customer base and have even published a book about these experiences. Getting Sold On Ebay, The Treasure Hunter's Guide To Making Money, which has received stellar reviews and is receiving national attention.
To learn more about the Novocins and Estate Auctions, Inc. visit on Facebook.
Do you have a valuable antique you would like to sell on eBay? Call for consigning information at 1-800-573-3508. You can find their new book Getting Sold On Ebay, The Treasure Hunter's Guide To Making Money on eBay or Amazon.com.