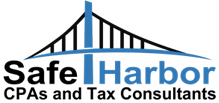 Time waits for no man or woman.
San Francisco, CA (PRWEB) June 30, 2015
Safe Harbor LLP (http://www.safeharborcpa.com/), one of the San Francisco Bay Area's top-rated accounting firms, is proud to announce the public release of its July, 2015, San Francisco Tax Tips Bulletin. The accounting firm specializes in helping high net worth individuals as well as businesses with tax, accounting, and financial planning issues. The latest edition of the firm's tax bulletin focuses on estate planning and succession issues for small business owners.
"Time waits for no man or woman," commented Chun Wong, CPA, managing partner at Safe Harbor LLP. "Many of our clients are successful San Francisco Bay Area entrepreneurs and business owners; however, they - too - need to make estate planning and business succession decisions. Thus, our newsletter for July focuses on these topics."
To read the newsletter, please visit http://www.safeharborcpa.com/san-francisco-tax-tips-july-2015-client-tax-newsletter/. There one can follow the company's blog and stay informed regarding accounting issues for San Francisco Bay Area residents.
Succession Planning for Small Businesses
While San Francisco is famous for its technology entrepreneurship, it has many small businesses that are either mom and pop operations or are outside of the technology norm. Examples might be a construction business, a successful restaurant, or even a pet store or dog washing business. In lucky cases, these businesses are so successful as to necessitate a succession plan. When the business owner or owners passes away, it will be necessary for the business to transition to new ownership.
Estate planning is necessary for almost anyone with significant assets; it is especially necessary for someone who owns a small business. In this month's lively tax tips newsletter, Safe Harbor discusses at length the issues of succession planning for San Francisco bay area small businesses.
About Safe Harbor LLP – a Professional CPA Firm in San Francisco
Safe Harbor LLP is a CPA firm that specializes in accounting and tax services for individuals and businesses throughout the San Francisco Bay Area and greater California. Safe Harbor CPAs helps both individuals and businesses with tax preparation, IRS audit defense, and audited financial statements. The firm prides itself on friendly yet professional service and utilizes state-of-the-art Internet technology to provide quality customer service.
Safe Harbor CPA
http://www.safeharborcpa.com
Tel. 415.742.4249