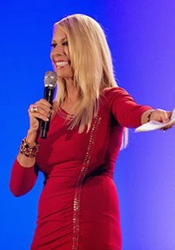 A breakthrough is defined as: Making an achievement or discovery that will further your progress.
Dallas, TX (PRWEB) December 22, 2014
Esther Spina is recognized as a motivational speaker and author of The Ambitious Woman and is highly sought-after at many sales events. Recently, Esther shared her wisdom with a group of thousands at the Ambit Energy Ambition 2014 event, speaking on the topic of "Experiencing a Breakthrough In Life."
Esther defined a breakthrough as "making an achievement or discovery that will further your progress." She also pointed out that breakthroughs only occur when individuals make a choice to have one. She also stated that the only way to have a breakthrough was by letting go of any "stuff" that was not furthering an individual's stated goal or purpose. She points out that negative thoughts and people should be avoided, even if it means avoiding people who have often been a part of an individual's life. Further, she states that it takes more energy to be negative than to have a positive outlook. For the complete speech, see https://www.youtube.com/watch?v=4QKX-n88ljY&feature=youtube.
Esther's book The Ambitious Woman includes a great deal of information on developing and keeping a positive attitude as well as what it takes to be successful in both business and personal life. According to Esther, ambition allows women to pursue their dreams, no matter what they are. Through her book and her speaking engagements, Esther helps women live empowered lives and reach their goals by creating win-win situations in every relationship. For more information, see http://estherspina.com/.
About Esther Spina:
Along with being a valued public speaker and motivator as well as an author, Esther Spina is also the founder of Ambitious Women, a group that provides support through annual conferences for women in business.