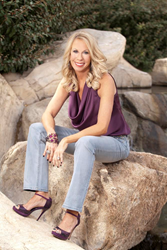 Ambition is not just about being successful and getting things done. Ambition is about being determined enough to overcome adversity.
(PRWEB) November 12, 2014
Esther Spina has always been unafraid to take on challenges, whether it was her job as the first female order desk clerk for General Electric/Hotpoint, her work with her husband Frank in building a successful business, or her climb to become one of Ambit Energy's most successful sales people. Now, Esther is the author of The Ambitious Woman: What It Takes and Why You Want To Be One, an Amazon Bestseller in which she shares the knowledge she has gained, through the years, about being a successful woman in business. The Ambitious Woman is published by Next Century Publishing.
Now, Esther is launching a new resource for those who follow her writing and teaching: a regularly updated blog as part of her website at http://www.estherspina.com. This blog is updated weekly and provides insight on motivation, success and ambition in business. Her topics reach deep into the hearts of women who may be struggling with balancing career and family and help them find the tips they need to become Ambitious Women. The blog is located at http://estherspina.com/blog/.
Esther is not only an author but a popular speaker as well. She regularly holds motivations sessions for women in all career paths and speaks at meetings of her own Ambit Energy's female sales staff. Her inspirational speeches have made her one of the most sought-after female speakers in today's competitive business marketplace.
Esther shares her wisdom through her book, her blogs and her speaking engagements. She inspires women to stop being afraid of ambition and to embrace it as a natural and necessary part of being successful in the business world.
About Esther Spina:
Esther Spina has been a leading sales representative for Ambit Energy for many years and is a well-known author and sought-after speaker. She inspires women to be ambitious in their careers and to pursue excellence no matter what field they choose.