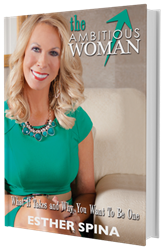 Confidence breeds happiness and contentment. It gives a sense of control in life, which leads to greater levels of emotional security.
(PRWEB) January 19, 2015
Esther Spina's new book, The Ambitious Woman, released last year by Next Century Publishing, has been ranked second on INC's 10 Best Business Books of 2014. This prestigious honor is accorded to authors who impact the business word significantly through their writing. Spina shares this list with authors such as Judy Robinett, Anthony Robbins, Tom Koulopoulos, Dan Keldsen and Jeff Sutherland. For a complete list of this year's winners, see http://www.inc.com/geoffrey-james/10-best-business-books-of-2014.html.
Esther Spina is a self-made woman who has learned the lessons of success and ambition through hard work. Her book, The Ambitious Woman, was launched in September 2014 by Next Century Publishing and skyrocketed to second place in the "Women in Business" category on Amazon a short time later. On the day of the launch, Spina received more than 200 positive reviews on her site and the book became number 16 of the overall "Hot New Releases" for that month. For more information or to order the book, go to http://amzn.to/1zia6Aa.
The Ambitious Woman includes Spina's wisdom on being successful in any environment. According to Esther Spina, being ambitious enough to pursue dreams is a key ingredient in success. Esther also shares her experiences and insight through her network, Ambitious Women, and in hundreds of speaking engagements throughout the nation each year. A highly sought-after motivational coach and speaker, Esther Spina inspires thousands of women every year with her teaching. For more information, see http://estherspina.com/.
About Esther Spina:
From her start in business as the first female Order Desk Clerk for General Electric/Hotpoint, California native Esther Spina has always been involved in successful enterprises, bringing her unique mixture of personality and wisdom to every task. The author of The Ambitious Woman and a nationally-renowned inspirational speaker, Esther Spina is receiving recognition as an expert in business coaching and practice.