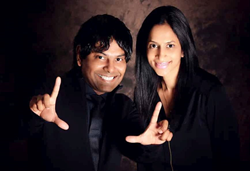 Get the smile you deserve. Go ahead, be yourself - because you are worth it.
NYC, NY (PRWEB) January 09, 2017
Esthetix Dental Spa has now been at the 285 Fort Washington Ave, NYC, NY location for 10 years.
There have been major advances in Dental Technology over the past 10 years. Esthetix Dental Spa offers the latest developments to patients, such as
FILLINGS When treating a cavity, the dentist will remove the decayed portion of your tooth and fill it with another substance. This procedure is called a filling. 10 years ago, the filling was commonly silver amalgam. Now, fillings are heavy duty porcelin for durability plus a natural look.
TREAT GUM DISEASE WITH LASER Esthetix Dental Spa uses painless gum laser when Periodontal treatment is required for a patient. 10 years ago, Periodontal Surgery was the usual procedure.
FROM WIRE BRACES TO INVISALIGN Invisalign straightens teeth using a custom-made series of aligners created for you and only you. These aligner trays are made of smooth, comfortable and virtually invisible plastic that you wear over your teeth to gradually and gently shift your teeth into place. No more adjusting wires in metal braces (the grill).
FROM DENTURES TO IMPLANTS Esthetix Dental Spa restores a missing tooth with an implant placed as the "fixture" or root of the tooth. This is a titanium screw that is gently implanted where the new tooth will be. Implants work like your own teeth. 10 years ago, many people replaced missing teeth with removable dentures (teeth in a glass of water next to the bed overnight).
Dr. Arvind Philomin and Dr. Divya adusumilli along with the Esthetix team of highly knowledgeable and skillful doctors is able to give patients the smile they want. "Get the smile you deserve," said Dr. Philomin. "Go ahead, be yourself - because you are worth it."
Esthetix Dental Spa appreciates loyal patients who come in for all of their dental needs and invites those who have avoided the Dentist in the past to make an appointment to come in and see the benefits available with modern dentistry
ABOUT DR. ARVIND PHILOMIN, DR. DIVYA ADUSUMILLI AND ESTHETIX DENTAL SPA: Dr. Arvind Philomin, Dr.Divya Adusumilli and the Esthetix team use state-of-the-art dental implant technology and equipment to provide exemplary care to every patient needing dental implants or Invisalign teeth straightening in the 10471 area and nearby. Patients at Esthetix Dental Spa can feel confident about the work being done and their new, beautiful smile. Patients living in Upper Manhattan, Washington Heights, Riverdale and the Bronx should look to Esthetix Dental Spa for Invisalign teeth straightening, teeth whitening, dental implants and all of their dental needs.
Dr. Arvind Philomin
Dr. Divya Adusumilli
Esthetix Dental Spa
285 Fort Washington Ave #CD
New York, NY 10032
http://www.esthetixdentalspa.com
Phone 212-795-9675
Fax 212-795-1631
https://youtu.be/AU23v7Q0ho0