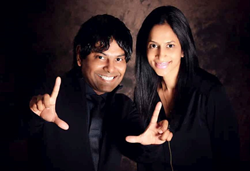 We believe giving the gift of reading will help young people break the cycle of poverty by gaining more ability to learn so they can get a better education, better jobs and success.
NYC, NY (PRWEB) August 29, 2017
Dr. Arvind Philomin helped at a major event in St. Petersburg Florida, attended by national experts and VIPS to benefit the Youth Literacy Campaign and other groups in the fight against illiteracy. The annual event is sponsored by MGE Management Experts at their corporate headquarters near Tampa. This year new books and audio books will be provided to approximately 168,000 underprivileged school children nationwide.
The Youth Literacy Campaign is a program that raises money for children's books, then through its partner programs, such as YALSA, Boy Scouts of America, the Boys and Girls Club, and Toys for Tots, helps get books into the hands of children around the United States.
A primary concern of those attending is that poverty and illiteracy are closely linked, leading to an unending, and vicious cycle in which the poor remain poor for generations. Dr. Philomin from New York City, decided to fight back to help break this cycle by joining forces with MGE Management Experts, by sponsoring the company's semiannual Benefit Dinner to raise funds for the Improving Youth Literacy Campaign.
One notable person participating in the Benefit was Suzan Valdez. A local school board member, of the 8th largest county in the United States. Mrs. Valdez was elected to the Hillsborough County School Board in November 2004, and was re-elected to a fourth term in August 2016. She is one of seven members responsible for making policy decisions and overseeing a budget of 3 billion dollars serving over 213,000 students for the 8th largest school district in the nation, which is also the county's largest employer with more than 25,000 employees. She was elected School Board Chair in 2010, and again in 2014, after serving as Vice Chair in 2009 and respectively in 2013. Mrs. Valdés is passionate about education and believes every child has greatness in them and can achieve their dreams. Her model is "An Education Can Never Be Erased".
Dr. Philomin said, "Esthetix Dental Spa is committed to giving back to our community. We feel that participation with the Youth Literacy Campaign to promote literacy to underprivileged children is one of the best ways to do this. We believe giving the gift of reading will help young people break the cycle of poverty by gaining more ability to learn so they can get a better education, better jobs and success."
At the event, guests enjoyed a fine dining experience from Café Ponte, a local Zagat rated fine-dining establishment. After the three-course meal, the clients of MGE participated in an auction that raised enough money to help ensure that thousands of children were given the help they require. Auction items were auctioned off, with the help of an exceptional Marilyn Monroe look-alike. Some of the auctioned off items included luxury handbags donated by Rebecca Minkoff; autographed memorabilia of entertainers and sports legends such as Mike Tyson, Eli Manning, John Travolta, Samuel L. Jackson and the cast of X-Men.
About Esthetix Dental Spa: Dr. Arvind Philomin & Dr. Divya Adusumilli found Esthetix Dental Spa – New York Family Dentist in 2002, designing a comprehensive Dental Practice that offers procedures for urgent care situations to reconstructive work to smile makeovers. Between all the doctors in the multi-specialty practice, they have decades of experience in all areas of dentistry including full mouth reconstruction and advanced cosmetic and implant dentistry. Their goal is to make each visit as comfortable as possible and this is carried out through the comforts of the facility and the care provided by the doctors and the staff.
Dr. Arvind Philomin
Dr. Divya Adusumilli
Esthetix Dental Spa
285 Fort Washington Ave #CD
New York, NY 10032
http://www.esthetixdentalspa.com
Phone 212-795-9675
Fax 212-795-1631
https://www.linkedin.com/in/arvindphilomindds
https://twitter.com/EsthetixDental
https://www.facebook.com/Esthetix