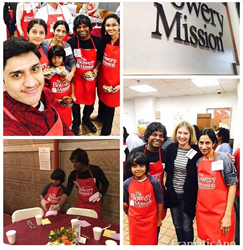 Help is doing something to aid or assist someone, Esthetix Dental Spa is committed to helping. It's why we're here
NYC, NY (PRWEB) November 27, 2016
Thanksgiving was the busiest day of the year at the Bowery Mission. For Thanksgiving 2016, the 136-year-old Bowery Mission on the Lower East Side of NYC served Thanksgiving dinners both at the historic Bowery location and at locations throughout New York City. They roasted and hand carved 650 turkeys, cooked 8,000 pounds of potatoes, 3,000 pounds of vegetables and baked 500 pies.
Dr. Arvind Philomin of Esthetix Dental Spa plus family members Dr. Divya Adusumilli, Krish Philomin, Annika Philomin, and Esthetix Dental Spa office staff members Vineet and Deepthi volunteered and served Thanksgiving dinners at the Bowery Mission.
"There are a lot of people in New York City who go hungry every day. This community has given enough to sustain my family and the families of the group that work with me at Team Esthetix. I can contribute by feeding a proper Thanksgiving meal to a whole bunch of starving New Yorkers. I think I make a difference in to the community that provides for me," said Dr. Philomin. "Help is doing something to aid or assist someone, Esthetix Dental Spa is committed to helping. It's why we're here."
Since being founded in 1879, the Bowery Mission strives to be the most effective provider of compassionate care and life transformation for people in need in New York City. This fits well with Dr. Arvind Philomin's support for the Marine Corps' Toys For Tots program and MGE Management's alliance with the Boys and Girls Clubs' Fight Against Illiteracy.
ABOUT THE BOWERY MISSION: it is a mission and men's shelter in the Bowery neighborhood of Manhattan. The Bowery Mission provides food, medical services and employment assistance to the working poor and homeless men women and children. At night The Bowery Mission opens its chapel to serve as a emergency shelter for homeless men. In addition to these services, The Bowery Mission offers a long-term (6-12 month) residential program providing homeless men the opportunity to rejoin society as working, contributing members.
The Bowery Mission
227 Bowery,
New York, NY 10002
Help out at the Bowery Mission anytime:
https://www.bowery.org/volunteer/
https://www.bowery.org/donate/
Phone 212-674-3456
ABOUT DR. ARVIND PHILOMIN AND ESTHETIX DENTAL SPA: Arvind Philomin, DDS uses state-of-the-art dental implant technology and equipment to provide exemplary care to every patient needing dental implants in the 10471 area and nearby. Patients at Esthetix Dental Spa can feel confident about the work being done and their new, beautiful smile. Patients living in Upper Manhattan, Washington Heights, Riverdale and the Bronx should look to Esthetix Dental Spa for Invisalign teeth straightening, teeth whitening, dental implants and all of their dental needs .
Dr Arvind Philomin
Esthetix Dental Spa
285 Fort Washington Ave #CD
New York, NY 10032
http://www.esthetixdentalspa.com
Phone 212-795-9675
Fax 212-795-1631
https://youtu.be/AU23v7Q0ho0