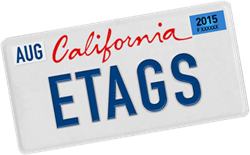 California has many private, brick-and-mortar agencies renewing tags on behalf of vehicle owners. We wanted to make the process better by bringing that convenience online
Fort Lauderdale, Florida (PRWEB) September 03, 2015
eTagsDirect.com launched as an online registration renewal service for Florida residents last year. In recent months, they have added the option to order or renew a Florida specialty plate but they have set their sights farther out from the Sunshine State. The company is now pleased to announce that it is offering registration renewal services in California.
eTags has offered a faster, more convenient online option for Florida residents to process their vehicle registration renewals for over a year. Beyond that, the eTags Customer Care team has helped over 7,700 vehicle owners in Florida identify and resolve issues with their vehicle registration. With eTags being licensed by the California DMV, the team is excited to be able to help California residents in the same way while also providing them a faster, more convenient online renewal option.
"California has many private, brick-and-mortar agencies renewing tags on behalf of vehicle owners. We wanted to make the process better by bringing that convenience online" said Claudia Salinas, Marketing Manager at eTags. She goes on to say; "While the services these private tag offices offer are very valuable to many vehicle owners in California, we know that for many still, even taking the time to visit one of these offices can be difficult."
Online renewals can be processed for passenger and commercial cars, trucks, trailers, and motorcycles registered in California. While in Florida eTags offers the option to also renew RVs and boats, they plan to add these to the mix for California residents in the very near future. In addition to faster processing, through etagsdirect.com, customers can renew the registrations for multiple vehicles in one order, print a digital copy of their registration certificate immediately after it is processed, and much more the company claims. Some of these additional benefits, as eTags states, include:

No waiting in line, no need to take time off of work, and no need to drive to a DMV or a private tag office
Express delivery options allowing residents to choose 2-day delivery or next-business day delivery
Delivery Assurance providing customers the peace of mind that if the tags are returned to them, they will be overnighted to the vehicle owner
Online order status checks allowing customers to view processing and shipping information for their car tags anytime on their website
eTagsDirect.com is a ShopperApproved website maintaining a 5-star rating with over 19,700 customer reviews. They offer fast, online tag registration renewals in Florida and now, California. The eTags team is also passionate about spreading awareness for driving safety issues through Facebook, Twitter, and other channels.