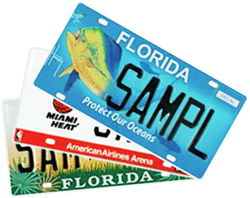 The focus should be on the organization a person is supporting and not on the hassle it might be to get or renew a specialty plate.
Fort Lauderdale, FL (PRWEB) August 10, 2015
The eTags team is providing a new service for Florida drivers. Along with tag and registration renewals, the company now offers Florida specialty license plate services. Through eTagsDirect.com, Florida drivers can quickly and easily switch to one of more than 120 specialty plates offered by the State.
Specialty license plates are a novelty among Florida drivers. As opposed to traditional license plates or personalized plates, specialty license plates are offered by various organizations and agencies in support of national sports teams, colleges, great causes and more. Specialty license plates are an option available to all registered vehicle owners in Florida and come with an annual use fee added to the cost of the plate and tags. Those fees, in turn, go towards supporting the specific organization represented by the license plate.
eTags started processing specialty license plate orders in August 2015 and is excited to not only provide an added level of convenience to their customers, but is also motivated by helping great causes. They have partnered with organizations like Lauren's Kids in order to bring awareness to issues like child abuse and also help them raise money through state-approved specialty plate sales.
Florida drivers can order specialty license plates when they renew their vehicle registration at eTags or they can switch to a specialty license plate with their current registration for a small service fee. eTags claims that ordering a specialty license plate online through them saves people the inconvenience of physically going to the DMV or a local tag agency and waiting in line. They also claim to be more convenient and provide better customer service than other online options. Claudia Salinas, Marketing Manager at eTags, said; "The focus should be on the organization a person is supporting and not on the hassle it might be to get or renew a specialty plate."
eTags places great emphasis on customer support by creating a user-friendly experience via their online platform. Ms. Salinas goes on to say; "When we launched our registration renewal service, the goal was to make the online process faster and easier. We are accomplishing that every day and now we want to do the same for those looking to order or renew specialty plates."
While eTags launched an online platform providing Florida drivers an easier, faster alternative to renew tags online, the site is expanding to offer even more convenience. In addition to FL specialty plates, eTagsDirect.com launched a comprehensive feature to allow current customers to check their order and shipping status online, anytime. While the eTags Customer Care department is always ready to help via phone or email, this new online tool will expand on the ease-of-use eTags claims to provide to their customers.
About eTags
eTagsDirect.com is a ShopperApproved website maintaining a 5-star rating with over 16,000 customer reviews. They offer fast, online tag registration renewal and now, processing of specialty license plate orders. The eTags team is also passionate about spreading awareness for driving safety issues through Facebook, Twitter, and other channels.