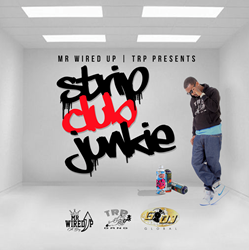 I'm not a one-dimensional Houston rapper. I don't do boxes. I can't be fit in one.
Houston, TX (PRWEB) September 17, 2014
Hot off his successful mixtape, "Inside My Mind 2", H-Town rapper Mr. Wired Up released today his highly anticipated new single "Strip Club Junkie."
The club banger is guaranteed to have the streets slayed, strippers paid and a "Strip Hop" movement made. It's the first drop from the LP of the same name and is definitely art imitating life. Inspiration for the single, album and all of Mr. Wired Up's music came from the places that served as his muse – strip clubs. From lacing signature Strip Hop tracks for dancers to creating the hottest pole anthem, Mr. Wired Up has definitely come a long way and he's just getting started.
"The strip clubs are what I know, but I came from an era of originality, I can slay a variety of tracks," said Mr. Wired Up. "I'm not a one-dimensional Houston rapper. I don't do boxes. I can't be fit in one."
Strip Hop is just what it sounds like. It's a derivative of hip hop music popularized by the exotic dancers who perform to it. Strip club culture has an amplified presence in hip hop and Mr. Wired Up's beats and sounds will only make exotic nightlife even more mainstream.
"Strip Club Junkie" is available for download on Spotify, Myspace and iTunes. For more information on Mr. Wired Up, including how to cop his music, please visit http://www.mrwiredup.com and follow @MrWiredUpOhBoy on Instagram and Twitter, and like him on Facebook!
ABOUT MR. WIRED UP
Mr. Wired Up gets clubs fired up and parties "turned up" when he gets on the mic. The lyricist has a flow with a cadence influenced by some of Houston's finest rappers. His sound possesses a unique crossover appeal that geography or hip hop just can't contain. Groomed during an era when R&B, jazz and soul birthed Southern rap, Mr. Wired Up can thank Houston's bourgeoning '90s hip hop scene as an accelerant for his ambition to stand among the greatest MCs in the game. Follow Mr. Wired Up at @Mr.WiredUpOhBoy.