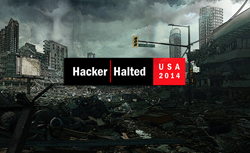 How technology would play into some kind of large-scale societal collapse is very much on the minds of information security professionals ...
Albuquerque, NM (PRWEB) April 24, 2014
When questioned about why the theme of Zombie Apocalypse was chosen, Eric Lopez, EC-Council's Conference Director explained, "This year at Hacker Halted we thought it would be important to explore how technology would hurt and more importantly help us in a disaster scenario and the "Zombie Apocalypse," seems to be the most prevalent representation of global disasters these days."
Mr. Lopez goes on to say, "It really does seem as if the preoccupation with zombies has come at a time when there are more calamities than ever. There have been the tornadoes in Huntsville and Oklahoma, hurricane Katrina, typhoons in the Philippines, floods in India and Mexico, the earthquake in Haiti, and most recently, this year's polar vortex that has engulfed the US, from Michigan to Georgia. The list goes on and on, and as we become more reliant on technology we become more vulnerable to Mother Nature."
Experts agree with Lopez's reasoning, as it's long been noted that zombies are used as a stand-in for very real societal fears. Recently, many researchers have been looking at the study of zombies including film scholar Kyle Bishop, who explains the reality and fear of a real life apocalypse, the collapse of society and how will we survive. How technology would play into some kind of large-scale societal collapse is very much on the minds of information security professionals around the world and discussions around IT infrastructure and security will have top billing on the Hacker Halted agenda.
One of the most anticipated tracks at Hacker Halted will be the Critical Infrastructure track, which will feature speakers tackling topics directly related to the security of the technology and data that runs an ever-expanding list of increasingly important everyday services. Topics like communication systems, power grids, transportation systems, and other vital structures all around us are vulnerable to hackers and outages that threaten nations' economies and security.
References
1) Ricciardi, Michael (2013) The Zombies Among Us – Exploring The Resurgent Popularity of Zombies In Modern Culture
About EC-Council Foundation
EC-Council Foundation is a charitable and educational organization dedicated to educating and training individuals in security skills. Established in 2012 by EC-Council, the foundation seeks to raise awareness, build capacity across nations and ultimately promote global peace. EC-Council Foundation's mission is to foster collaboration and participation by global digital citizens to become advocates for safe, secure on-line activities and to foster online child protection through education. For more information, visit foundation.eccouncil.org.
About Hacker Halted
EC-Council Foundation's flagship information security conference, Hacker Halted, aims to raise awareness toward increased education and ethics in information security. This information security conference series covers in-depth topics into the development of security issues plaguing the world. Hacker Halted features many world-renowned subject matter experts and high-level speakers, as well as some of the best technology companies showcasing their products and services. Hacker Halted provides the most sought after technical training and certification classes offered through Hacker Halted Academy.