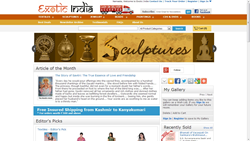 India is a culturally rich country with amazing treasures to offer the world. Its rich past and heritage has always remained the source of inspiration for artists globally.
New Delhi, India (PRWEB) March 07, 2014
Exotic India deserves special mention for delving out the inherent charm of India and spreading it throughout the world. Its vast varied offerings have appealed to Indians and foreigners who are looking for something different and exclusive. The store offers almost everything one needs to adorn oneself or the house. Then there are great collection of books, ethnic jewellery and paintings.
"India is a culturally rich country with amazing treasures to offer the world. Its rich past and heritage has always remained the source of inspiration for artists globally. The Indian ethos reflects not just in different art forms like paintings and sculptures but also in jewellery and traditional clothing. Our textile segment offers an abundant collection of ladies tops, lehenga choli, salwar kameez, dupattas, saris, skirts, stoles, shawls, kurtas and more to highlight our tradition," says a senior executive associated with the company.
Designer scarves in rich fabrics and designs have become a special attraction among women of all age groups. Teenagers love to team it up with traditional and modern outfits. To truly understand the variety available in the current times explore the site well and you will be floored with its vibrant collections. Woollen, cotton or silk, scarves are a must have accessory in every woman's wardrobe. What is really amazing about Exotic India is that none of their offerings is identical or outdated. To truly flaunt the ethnic look it is undoubtedly the best option to visit this site.
The Stole and Shawl sections also elicit quite an overwhelming response. The executive further added, "Keeping in mind that along with scarves, stoles and designer shawls have also gained immense popularity amongst teenagers and college goers, the store offers a fashionable range of these in classy hues. Original Pashmina shawls and stoles are rare to find but you can easily shop for them on our online store."
Shopping at Exotic India is an enjoyable experience and is any shoppers' fantasy come true. The e-store has an extensive range of original Indian merchandise comprising products from different states and cultures under one roof. The store's collection includes almost everything starting from Indian costumes for men and women to home décor items, CDs, DVDs, books, paintings, beads, sculptures, jewellery etc. To buy Indian earrings online, visit this site. This Indian online hub is not only known for its good quality offers but seamless buying experience. Find pure Pashmina stoles and shawls here.
About Exotic India:
Established in the year 1998, Exotic India is an online store that specialises in retailing Indian merchandise. The store is known for selling authentic, good quality products which are created by Indian artisans & craftsmen. The collection includes impressive jewellery, textile, books, sculptures, CDs, DVDs, idols and paintings. For buying Hanuman paintings online, click here. The store's sole aim is to spread the glory of Indian products within and outside the country. Each of its items is picked up after thoroughly assessing the quality and authenticity hence you will not find any substandard product in the e-store. Buying products from the site is hassle less because there are multiple payment options including cash on delivery. Buy exclusive Indian Scarves and other items from the e-store for the traditional look.
Contact Details:
Exotic India
T4/13 Mongolpouri Industrial Area
Phase I
New Delhi: 110083
Telephone: 99538 39642
Email: info(at)exoticindia(dot)co(dot)in
Website: http://www.exoticindiaart.com/