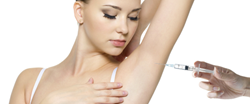 BOTOX treatments for excessive underarm sweating can result in a noticeable difference in as little as one month after treatment, and a single injection can last up to six months.
Summit, NJ (PRWEB) April 01, 2014
As the sultry days of summer approach, Ethos Spa Skin and Laser Centers Medical Director Hardik Soni, M.D., says he's receiving an increasing number of inquiries about Botox injections to address excessive sweating.
Everyone sweats, especially in summer when people are more likely to be enjoying outdoor physical activities or simply walking to the corner. Sweating is a normal function of the body that keeps it from overheating when the temperatures rise. However, for more than one million Americans, excessive sweating is the result of overactive underarm sweat glands, and it can be very embarrassing. Also known as severe primary axillary hyperhidrosis, the condition can interfere with leading a normal life, working with others and enjoying favorite activities. For some, even prescription anti-perspirants are ineffective.
When all other options for treating the problem have failed, Soni says that Botox has proven to be a life-saver for reducing or eliminating excessive perspiration, allowing people with the condition to enjoy wearing the same dry shirt or blouse all day, and to spend time with friends and family socially without worrying about embarrassing wet spots forming under their arms. Some people are still surprised to learn that BOTOX is effective in reducing or eliminating excessive perspiration, although it has been an FDA approved treatment for hyperthidrosis since 1994.
According to a November 2013 article in Consumersearch.com titled, "Hyperhidrosis is Best Treated by a Doctor," clinical studies have shown that 81 percent of patients who perspire profusely experience at least a 50 percent reduction in sweat production with BOTOX injections administered directly to the armpits. It works by preventing chemical signals from reaching nerves in the sweat glands. For individuals who have run out of potential cures for excessive underarm sweating, Botox is considered a miracle solution that has only recently gained widespread attention for this application.
BOTOX treatments for excessive underarm sweating can result in a noticeable difference in as little as one month after treatment, and a single injection can last up to six months. Most insurers cover this treatment since hyperthidrosis is a medical condition. Each treatment takes only 10 to 15 minutes, involving roughly a dozen injections being made in the underarms to target all glands.
BOTOX injections are becoming the go-to answer for anyone with an excessive sweating problem who worry about a special occasion being ruined, like fathers-of-the-bride who don't want to sweat profusely as they walk their daughter down the aisle.
For that matter, the bride may need the safety net of Botox injections herself if her own battle with hyperthidrosis has her worried about ruining the gown before the reception even begins.
For more information on BOTOX injections to curtail excessive sweating, or any of the expert aesthetic services available at the Ethos Spa, Skin and Laser Center, visit the Ethos Spa website, call the Summit location at (908) 273-5400, or call the Englewood location at (201) 541-6600.
About Hardik Soni, M.D. and Ethos Spa, Skin and Laser Center:
Ethos Spa, Skin and Laser Center Medical Director Hardik Soni, M.D. strives to achieve the best possible results for his patients by drawing on his experience and proficiency with multiple laser platforms, earned from having performed more than 15,000 cosmetic treatments including botulinum injection (Botox and Dysport), dermal fillers (Juvederm, Restylane, Radiesse), laser hair removal, chemical peels and laser skin rejuvenation. He is a platinum level injector with Allergan, the makers of Botox and Juvederm; his primary focus is on minimally invasive and non-invasive cosmetic procedures including Aesthera Candela, Cutera, Fraxel, Sciton and Syneron. Soni believes in a more conservative approach to cosmetic procedures, and prioritizes patient education. Clients are able to decide on their own ideal treatment after discussing their options, and weighing the expected outcomes, costs and risks.
He finished his undergraduate studies at Johns Hopkins University in Baltimore, Maryland and is board certified in Emergency Medicine. Soni currently works as an emergency room physician at Overlook Medical Center in Summit, New Jersey, as well as serving as medical director of Ethos Spa, Skin and Laser Center. He was recently chosen to the Advisory Medical Panel of Bella Magazine in NYC.
Ethos Spa, Skin and Laser Center is committed to providing the safest, most effective aesthetic procedures, customized to each individual client, utilizing the latest advances in non-invasive cosmetic treatments and technologies. Within a peaceful, luxurious environment, patients can choose from a wide array of cosmetic services and products to enhance the skin's appearance.