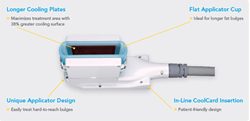 Summit, New Jersey (PRWEB) January 31, 2014
Ethos Spa Skin and Laser Center has added a new applicator for CoolSculpt treatments designed to target specific, hard-to-reach areas such as the upper arms and thighs. The new CoolFit applicator aids physicians in sculpting these trouble areas that can be unresponsive to diet and exercise.
The CoolFit accessory is fitted with a flat applicator cup and cooling plates. Hardik Soni, M.D., Medical Director for Ethos Spa Centers in both Summit and Englewood, New Jersey, says the addition of the CoolFit applicator to the CoolSculpting system offers patients more opportunities to use the non-invasive, non-surgical CoolSculpt treatments.
"Each patient can get a truly personalized program of fat removal that targets their unique body concerns," Soni says. "We are also able to target areas of fat that were once only treatable with invasive options, such as liposuction or surgical removal of fat."
During a CoolFit treatment, targeted areas are drawn into the applicator and cooled, causing stubborn fat cells to undergo controlled apoptosis (cell death) with no affect to the surrounding skin tissue. Slight discomfort may be experienced upon initial application as intense cooling from the CoolFit process works its way into the fat cells, but the discomfort should diminish within 15 minutes after treatment starts.
The procedure takes at least an hour, depending on the size of the area being treated. Patients usually begin seeing results in as early as three weeks. CoolSculpting is able to remove fat, on average, at a rate of 20 percent per procedure.
Developed by Zeltiq Aesthetics, Inc., CoolSculpting® is a non-surgical, non-invasive body-contouring procedure developed by Zeltiq Aesthetics, Inc., The body contouring procedure treats problem areas of fat, including the tummy, upper arms and thighs that aren't responding to rigorous exercise and a healthy diet.
FDA cleared CoolSculpting takes advantage of cryolipolysis, a treatment that targets, cools and eliminates fat cells without damaging the surrounding tissues. The procedure is non-invasive and therefore has no downtime, and patients who may be poor surgical candidates now have a safe, non-invasive alternative for ridding their bodies of fat.
Soni practices non-invasive, son-surgical alternatives for aesthetic procedures with amazing results.
The ideal candidate for CoolSculpting and CoolFit treatments are non-smokers with problematic areas of fat bulges.
For more information on CoolSculpting or any of the expert aesthetic services available at the Ethos Spa, Skin and Laser Center, visit the Ethos Spa website, call the Summit location at (908) 273-5400, or call the Englewood location at (201) 541-6600.
About Hardik Soni, M.D. and Ethos Spa, Skin and Laser Center:
Ethos Spa, Skin and Laser Centers Medical Director Hardik Soni, M.D. strives to achieve the best possible results for his patients by drawing on his experience and proficiency with multiple laser platforms, earned from having performed more than 15,000 cosmetic treatments including botulinum injection (Botox and Dysport), dermal fillers (Juvederm, Restylane, Radiesse), laser hair removal, chemical peels and laser skin rejuvenation. He is a platinum level injector with Allergan, the makers of Botox and Juvederm; his primary focus is on minimally invasive and non-invasive cosmetic procedures including Aesthera Candela, Cutera, Fraxel, Sciton and Syneron. Soni believes in a more conservative approach to cosmetic procedures, and prioritizes patient education. Clients are able to decide on their own ideal treatment after discussing their options, and weighing the expected outcomes, costs and risks.
Soni finished his undergraduate studies at Johns Hopkins University in Baltimore, Maryland and is board certified in Emergency Medicine. Soni currently works as an emergency room physician at Overlook Medical Center in Summit, New Jersey, as well as serving as medical director of Ethos Spa, Skin and Laser Center. He was recently chosen to the Advisory Medical Panel of Bella Magazine in NYC.
Ethos Spa, Skin and Laser Center is committed to providing the safest, most effective aesthetic procedures, customized to each individual client, utilizing the latest advances in non-invasive cosmetic treatments and technologies. Within a peaceful, luxurious environment, patients can choose from a wide array of cosmetic services and products to enhance the skin's appearance.