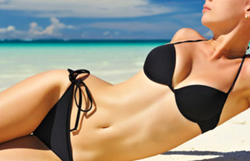 Completely remove unwanted hair on any skin type, and with state-of-the-art laser therapy options, once hair is removed it is gone forever.
SUMMIT, New Jersey (PRWEB) December 19, 2013
Ethos Spa Skin and Laser Centers are offering a 15 percent discount on any of its six-treatment laser hair removal packages. Costs range from $130 per treatment for smaller areas such as the lip or chin, to $750 per treatment for an entire leg. Most clients achieve significant reduction in hair growth after six treatments.
Ethos offers a range of laser hair removal treatments to accommodate a variety of clients with unique skin tones and hair qualities, each requiring a customized treatment plan for best results, including:

The Candela Pro GenteLase Alexandrite laser: among the most popular laser hair removal treatments, effective on virtually all skin types.
The Candela Nd: Yag laser, an advanced hair removal laser system for people with moderate-to-dark skin color.
The Elōs Plus 810 nm diode laser from Syneron: for gentle hair removal on all areas of the body; safe and effective on all skin tones.
The Candela laser hair removal systems work by penetrating the hair follicle with light energy, destroying each hair at its root while preserving the surrounding skin. Candela's GenteLase Pro Alexandrite laser offers a choice between cooling systems for comfort during treatments—air cooling compatible (ACC), which provides high air flow at a specified temperature during treatment, or dynamic cooling device (DCD) to deliver low-temperature cryogen almost simultaneously with each laser pulse.
Elōs (electro-optical-synergy) laser technology by Syneron® uses two different energy sources to remove unwanted hair—optical and radiofrequency. The combination of optical pulsed light (IPL) energy and bipolar radiofrequency (RF) current deliver both light and radiofrequency energy to thermally damage the hair follicle and inhibiting future growth.
For safe, effective and gentle hair removal on all areas of the body, the Elōs Plus 810nm Diode Laser Hair Removal system offers a new standard in speed, safety, and efficacy for permanent laser hair reduction or removal. Most body areas and skin types can be treated with the Elōs Plus 810nm diode laser, designed for safe, truly effective hair removal.
Ethos Spa's dedicated medical professionals can now completely remove unwanted hair on any skin type, and with their state-of-the-art laser therapy options, once hair is removed it is gone forever.
Ethos Spa Medical Director Hardik Soni, M.D. is highly trained and experienced in state-of-the-art laser hair removal technology and the use of multiple lasers
Patience experience no downtime after an Ethos Spa Skin and Laser Center laser hair removal treatment, and normal activities can be resumed immediately following each treatment. On average, six treatments are required for best results although that number can vary from patient to patient, depending on hair color and type, body area being treated, and skin tone. By scheduling an initial consultation, Ethos Spa consultants can create a personalized treatment schedule for each patient, for optimum results.
For more information on laser hair removal or any of the expert aesthetic services
available at the Ethos Spa, Skin and Laser Center, visit the Ethos Spa website, call the Summit location at (908) 273-5400, or call the Englewood location at (201) 541-6600.
About Hardik Soni, M.D. and Ethos Spa, Skin and Laser Center:
Ethos Spa, Skin and Laser Center Medical Director Hardik Soni, M.D. strives to achieve the best possible results for his patients by drawing on his experience and proficiency with multiple laser platforms, earned from having performed more than 15,000 cosmetic treatments including botulinum injection (Botox and Dysport), dermal fillers (Juvederm, Restylane, Radiesse), laser hair removal, chemical peels and laser skin rejuvenation. He is a platinum level injector with Allergan, the makers of Botox and Juvederm; his primary focus is on minimally invasive and non-invasive cosmetic procedures including Aesthera Candela, Cutera, Fraxel, Sciton and Syneron. Soni believes in a more conservative approach to cosmetic procedures, and prioritizes patient education. Clients are able to decide on their own ideal treatment after discussing their options, and weighing the expected outcomes, costs and risks.
He finished his undergraduate studies at Johns Hopkins University in Baltimore, Maryland and is board certified in Emergency Medicine. Soni currently works as an emergency room physician at Overlook Medical Center in Summit, New Jersey, as well as serving as medical director of Ethos Spa, Skin and Laser Center. He was recently chosen to the Advisory Medical Panel of Bella Magazine in NYC.
Ethos Spa, Skin and Laser Center is committed to providing the safest, most effective aesthetic procedures, customized to each individual client, utilizing the latest advances in non-invasive cosmetic treatments and technologies. Within a peaceful, luxurious environment, patients can choose from a wide array of cosmetic services and products to enhance the skin's appearance.
###