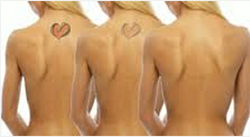 Safe tattoo removal on all patient skin types.
Summit, New Jersey (PRWEB) November 12, 2013
Hardik Soni, M.D., Medical Director of the Ethos Spa Skin and Laser Centers has announced the addition of Medlite C6 is laser technology for tattoo removal in both the Summit and Englewood centers. The industry's gold standard laser for multi-colored tattoo removal, the Medlite C6 provides safe tattoo removal on all patient skin types.
Built on ConBio's original Q-switched laser technology, the C6's state-of-the-art PhotoAcoustic technology provides high peak power and short pulse duration, a combination that generates a PhotoAcoustic action against the target chromophore (the part of a molecule responsible for its color.) In this application, the Medlite C6 forces energy to the target chromophore (the tattoo ink) at such a high rate, the molecules of tattoo ink vibrate, shatter, and fade without harming the surrounding skin.
For those clients with a tattoo they regret, or whose tattoos are interfering with their ability to find work, Ethos Spa and Laser Centers offer a great way to rid the body of ink permanently.
The addition of the Medlite C6 Laser to the growing list of aesthetic services is another reason that Ethos Spa Skin and Laser Center remains a leader in aesthetic treatments in New Jersey. The C6 laser is also effective in treating epidermal and dermal pigmented lesions,
Ethos Spa Skin and Laser Centers offers a highly trained team of medical professionals and skincare experts who offer a wide range of cosmetic and aesthetic procedures including:

Full color spectrum tattoo removal
Epidermal and dermal pigmented lesions (Nevus of Ota, sun damage)
Skin resurfacing
Wrinkle reduction
Acne scar reduction
The Medlite C6 provides a uniform, flat-top beam for tissue reduction with consistent results, fewer complications and no patient downtime.
For more information on laser tattoo removal or any of the expert aesthetic services available at the Ethos Spa, Skin and Laser Center, visit the Ethos Spa website, call the Summit location at (908) 273-5400, or call the Englewood location at (201) 541-6600.
About Hardik Soni, M.D. and Ethos Spa, Skin and Laser Center:
Ethos Spa, Skin and Laser Center Medical Director Hardik Soni, M.D. strives to achieve the best possible results for his patients by drawing on his experience and proficiency with multiple laser platforms, earned from having performed more than 15,000 cosmetic treatments including botulinum injection (Botox and Dysport), dermal fillers (Juvederm, Restylane, Radiesse), laser hair removal, chemical peels and laser skin rejuvenation. He is a platinum level injector with Allergan, the makers of Botox and Juvederm; his primary focus is on minimally invasive and non-invasive cosmetic procedures including Aesthera Candela, Cutera, Fraxel, Sciton and Syneron. Soni believes in a more conservative approach to cosmetic procedures, and prioritizes patient education. Clients are able to decide on their own ideal treatment after discussing their options, and weighing the expected outcomes, costs and risks.
He finished his undergraduate studies at Johns Hopkins University in Baltimore, Maryland and is board certified in Emergency Medicine. Soni currently works as an emergency room physician at Overlook Medical Center in Summit, New Jersey, as well as serving as medical director of Ethos Spa, Skin and Laser Center. He was recently chosen to the Advisory Medical Panel of Bella Magazine in NYC.
Ethos Spa, Skin and Laser Center is committed to providing the safest, most effective aesthetic procedures, customized to each individual client, utilizing the latest advances in non-invasive cosmetic treatments and technologies. Within a peaceful, luxurious environment, patients can choose from a wide array of cosmetic services and products to enhance the skin's appearance.